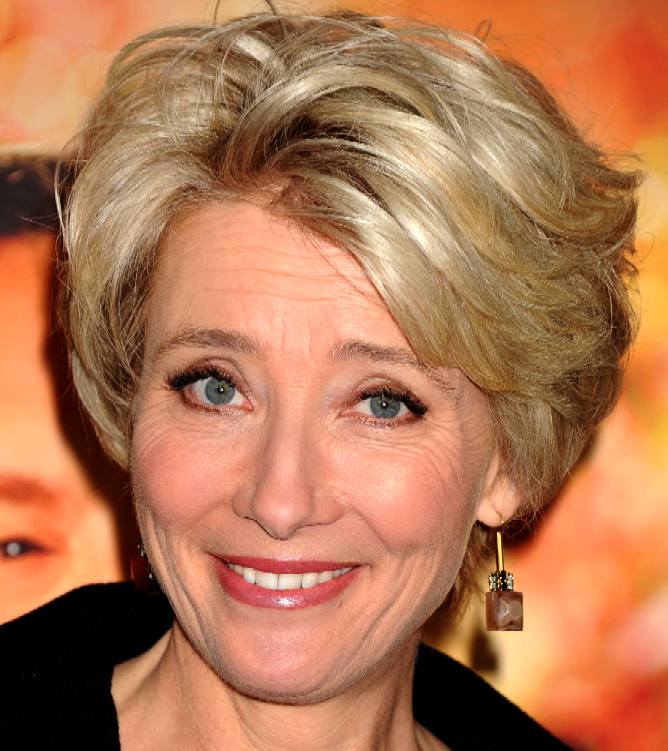 The talented and very beautiful Emma Thompson
TELEGRAPH 20 SEPT 2014 - SWEENEY TODD

Emma Thompson, as you might expect, has been sounding off about the Scottish referendum ("who would want to build new borders between human beings in an ever-shrinking world?"), and in the doubtless brief pause before her next pronouncement on matters of great importance came the welcome news that she is returning to the London stage.

It has been 25 years since Ms Thompson last trod the West End boards – appearing with her then husband Kenneth Branagh in a revival of John Osborne's Look Back in Anger – and while her film career has blossomed, a generation of theatre-goers has never had the chance to see her in person.

Emma is returning as the corpse-grinding gorgon Nellie Lovett in Stephen Sondheim's dark, operatic masterpiece, Sweeney Todd: The Demon Barber of Fleet Street, for a brief engagement at the London Coliseum next spring. In murderous pursuit of the judge who sent him to a penal colony, Sweeney cuts the throats of customers who are then baked into pies by Mrs Lovett. The role is a fiendishly hard one, as the long list of actresses who have fluffed it – most recently, Helena Bonham Carter in the 2007 film version – testifies.

The omens, though, are good. Like 55-year-old Emma, Mrs Lovett is opinionated, borderline batty, but essentially well-meaning, and the production's debut in New York earlier this year won critical raves. "Could she sing?" asked The New York Times. "Could she ever. The performance was a triumphant one…."

Thompson says her re-embracing of the stage was "a leap in the dark". In the years since her last appearance, she has won two Oscars, two Baftas, two Golden Globes, more or less monopolised the market in redoubtable, enigmatic Englishwoman parts, and become, in the phrase dreaded by actors, a national treasure.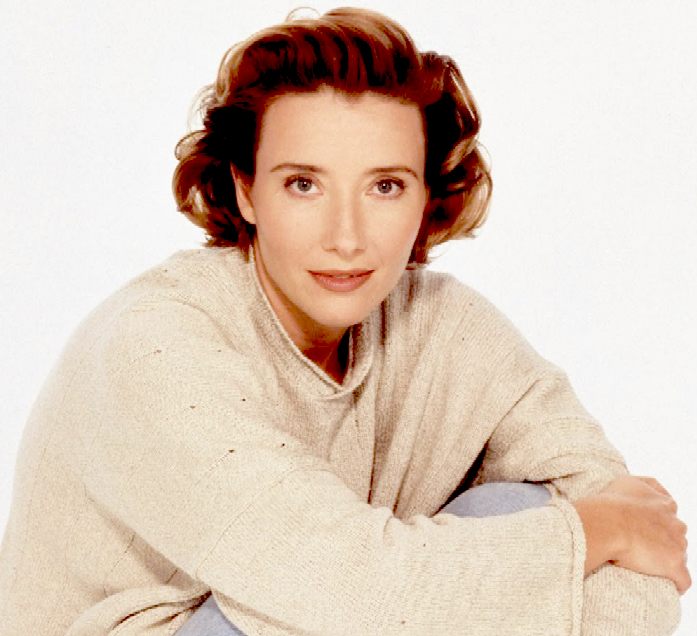 We almost did not believe that this was Emma, her face here is featureless compared to the seasoned actress who brings us so much joy on the big screen - and that of course include home entertainment - which thankfully, is now mostly to a very high standard. Blessed are the Blurays and HD wide-screens. Even Emma might say "thankyou Lord."


The status at least provides a platform for her healthy portfolio of causes, which includes such matters as climate change, human trafficking, Aids, Gaza, and the proposed third runway at Heathrow. The Paddington-born actress's intervention in the referendum campaign arises from her keeping a home in Dunoon, a small town on the west coast of Scotland, where, with her actor husband Greg Wise and daughter Gaia, 15, she spends "as much time as possible".

Activism, she says, is in her blood. Even as a pupil at Camden School for Girls – a favourite of liberal-minded, well-shod north London families – she went on Ban-the-Bomb demos and collected money for Greenpeace. At Cambridge, she shaved her head and embraced feminism, and was, she says, "loud and angry".

All this arose from a seemingly bohemian childhood, the first daughter of actors Eric Thompson and his wife, Phyllida Law. Eric later became famous as the creator of The Magic Roundabout, a Sixties children's TV series of suspiciously psychedelic overtones, featuring the likes of Dougal, a long-haired dog with a liking for sugar-lumps, Dylan, a dungaree-wearing rabbit who plays the guitar and who appears heavily dependent on carrot-sized spliffs, and Zebedee, a moustachioed puppet on a spring who seems overly interested in the candy-flossed blonde moppet Florence's bedtime.

As a child, Emma spent a lot of time with actors, getting guidance on drinking from Kenneth Williams and being told the facts of life, aged eight, by Sir Alec Guinness. Eric, with a history of heart problems, died at 53, by which time Emma was already on her way as an actress. "I grew up surrounded by creative people," she has said, "and I don't think it would have been any other way."

At Cambridge, she was in the Footlights theatre troupe with the likes of Stephen Fry, Hugh Laurie and Sandi Toksvig. It was there she first discovered she could sing, or at least had the potential to sing, and after some early TV work she made her stage breakthrough in the successful 1985 revival of Me and My Girl, co-starring Robert Lindsay. The unforeseen after-effects of this stint may help explain why it has taken 30 years for her to have another bash at a musical.

"I was in it for 15 months and I became clinically depressed," she says. "Maybe it was because I had to be so cheerful. I thought that if I did the Lambeth Walk one more time, I was going to throw up."

But this was mere preparation for the mental stresses ahead. In 1987, she landed a part in a TV mini-series, Fortunes of War, playing opposite Kenneth Branagh, the brightest young star on the British acting scene. Soon they were a couple – swooned over by the media, and hailed as Britain's Burton and Taylor – and in 1989 they married.

It was a turbulent relationship, wreathed in rumours of rivalries and conflicting interests. The coup de grâce was Branagh's alleged affair with Helena Bonham Carter, although officially they blamed the lack of time they were able to spend together. She has said that in the aftermath of the break-up, she "struggled to stay sane". Last year, however, Ms Thompson described it all as "blood under the bridge", and generously called Bonham Carter "a wonderful woman".

Next month sees the much-delayed release of her latest film, Effie Gray, based on the story of the celebrated Victorian art critic John Ruskin's unconsummated marriage to Euphemia "Effie" Gray. The project has been under legal onslaught from American author Eve Pomerance, who claims Ms Thompson plagiarised her two screen treatments of the subject. Five years ago, another American author, playwright Gregory Murphy, accused Ms Thompson of stealing his work on the story. Neither claim was successful.

Life's less complicated in Mrs Lovett's pie shop. Especially now that Helena has left the premises, and you have the great Sondheim to work for. "All he told me," she said last week, "was, 'Don't f--- it up.'"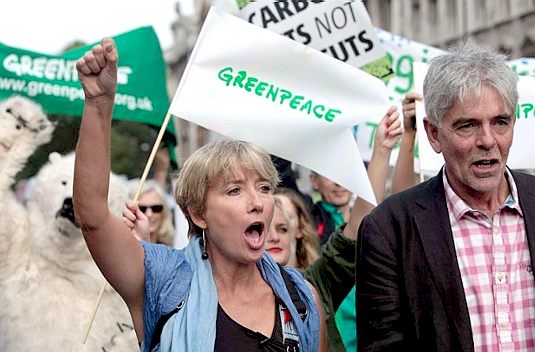 If only more people would follow Emma's lead and speak up about issues that are bothering them. Better still, do something positive.
MINI BIO
Emma Thompson (born 15 April 1959) is a British actress, screenwriter and author. Cited as one of the greatest British actresses of her generation, she is known for her portrayal of reticent women in period dramas and literary adaptations, often playing haughty or matronly characters with a sense of irony.

Born in Paddington, London, to English actor Eric Thompson and Scottish actress Phyllida Law, she was educated at Camden School for Girls and Newnham College, University of Cambridge, where she became a member of the Footlights troupe. After appearing in several comedy programmes, she first came to prominence in 1987 in two BBC TV series, Tutti Frutti and Fortunes of War, winning the BAFTA TV Award for Best Actress for her work in both. Her first film role was opposite Jeff Goldblum in the 1989 romantic comedy The Tall Guy, and in the early 1990s she frequently collaborated with then-husband actor and director Kenneth Branagh, appearing on stage together in A Midsummer Night's Dream and King Lear and in such films as Dead Again (1991), Peter's Friends (1992) and Much Ado About Nothing (1993).

In 1992, Thompson won multiple acting awards, including an Academy Award and a BAFTA Award for Best Actress, for her performance as the bourgeois lady Margaret Schlegel in the British drama Howards End. In 1993, Thompson garnered dual Academy Award nominations, as Best Actress for her roles as stately home housekeeper Miss Kenton opposite Anthony Hopkins in The Remains of the Day and as Best Supporting Actress for her portrayal of a campaigning lawyer Gareth Peirce alongside Daniel Day-Lewis in In the Name of the Father. In 1995, Thompson scripted and starred in Sense and Sensibility, a film adaptation of the Jane Austen novel of the same name, which earned her an Academy Award for Best Adapted Screenplay and a BAFTA Award for Best Actress in a Leading Role among other awards. Other notable film and television credits include her performances in the Harry Potter film series (beginning with Harry Potter and the Prisoner of Azkaban, 2004), Love Actually (2003), Angels in America (2003), Nanny McPhee (2005), Stranger than Fiction (2006), Last Chance Harvey (2008), An Education (2009), Nanny McPhee and the Big Bang (2010), Men in Black 3 (2012), and Brave (2012). In 2013, she received a BAFTA nomination for her portrayal of P. L. Travers in Saving Mr. Banks.

Thompson met Kenneth Branagh in 1987 while filming Fortunes of War and married him two years later. Dubbed a "golden couple" by the British media, the relationship received considerable press interest until they announced their separation in September 1995. She married Greg Wise in 2003, having given birth to their daughter, Gaia, in 1999. The family's permanent residence is in West Hampstead, London, on the same road that Thompson lived in her youth. She has been outspoken on issues such as religion, politics, the environment and human rights, and is a supporter of Greenpeace, ambassador for the charity ActionAid, and patron of the Elton John AIDS Foundation and Refugee Council. In 2012, Thompson authored The Further Tale of Peter Rabbit to commemorate the 110th anniversary of the publication of Beatrix Potter's The Tale of Peter Rabbit.
POLITICS & RELIGION
Thompson has said of her religious views: "I'm an atheist; I suppose you can call me a sort of libertarian anarchist. I regard religion with fear and suspicion. It's not enough to say that I don't believe in God. I actually regard the system as distressing: I am offended by some of the things said in the Bible and the Qur'an and I refute them." Despite this, she has said that "The guiding moral principles, the ethical principles, much of the philosophy [of the Christian tradition], if properly applied, is very good", and that she observes the Christmas tradition - so do we. She is supporter of the Labour Party and she told the BBC Andrew Marr Show in March 2010 that she had been a member of the party "all my life." She opposes Scottish independence, although she believes that England has been "so awful" to Scotland.

Thompson is a supporter of Greenpeace. It was announced on 13 January 2009 that, with three other members of the organisation, she had bought land near the village of Sipson, under threat from a proposed third runway for Heathrow Airport. It was hoped that possession of the land, half the size of a football pitch, would make it possible to prevent the government from carrying through its plan to expand the airport.

Thompson is an ambassador for the charity ActionAid and has travelled to Uganda, Mozambique, Ethiopia, Liberia and Burma to raise awareness of its work. Thompson is also an activist for Palestinians, having been a member of the British-based ENOUGH! coalition that seeks to end the "Israeli occupation of the Gaza Strip and West Bank." Additionally, she is a patron of the Elton John AIDS Foundation and the Refugee Council.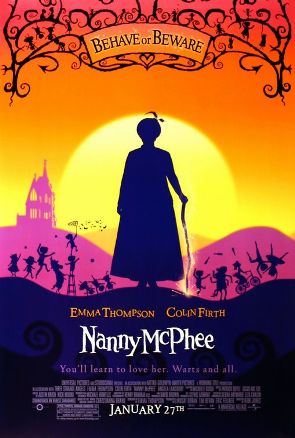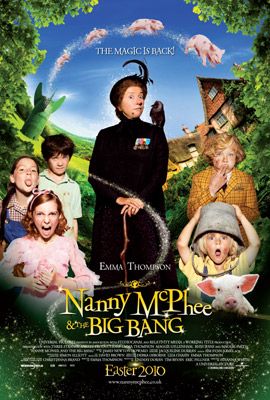 Emma, we need you. Please don't go. This brilliant series of films entranced me when I first saw it. The plot and casting is perfect. Well done Emma, we love you.
NANNY MCPHEE
Nanny McPhee is a 2005 British fantasy film directed by Kirk Jones. The film stars Emma Thompson and Colin Firth. Thompson also scripted the film, which is adapted from Christianna Brand's Nurse Matilda books. It had a sequel released in 2010, titled Nanny McPhee and the Big Bang.

PLOT

Widowed undertaker Cedric Brown has seven children. He is clumsy, loves his children but spends little time with them and cannot handle them. The children have had a series of nannies, which they systematically drive out by bad behavior. They also terrorize the cook, Mrs. Blatherwick.

One day, Cedric discovers throughout the home references towards a "Nanny McPhee". That stormy night, the children manage to cause havoc in the kitchen, though Cedric opens the front door and sees a hideous woman who shows up as "Nanny Mcphee". With discipline and a little magic, she transforms the family's lives. In the process, she changes from ugly to beautiful. The children, led by the eldest son Simon, first try to play their tricks on her, but gradually start to respect her and ask her for advice. They change to responsible people helping their clumsy father in solving the family problems, making McPhee less and less needed.

The family is financially supported by Cedric's domineering and nearsighted Great Aunt Adelaide. However, she demands custody over one of the children. She first wants Christiana (Chrissie), one of the daughters, but Evangeline, the scullery maid, volunteers and Adelaide agrees, assuming she is one of the daughters.

She threatens to reduce the family to poverty unless Cedric remarries within the month. The family would lose the house, and they would not be able to stay together. Desperate, Cedric turns to a vile and frequent widow Mrs. Quickly. The children assume from books that stepmothers are terrible. Therefore they sabotage a visit of Mrs. Quickly, who leaves, angry at Cedric. After the children are explained the financial aspect they agree to the marriage, and appease Mrs. Quickly by confessing they were to blame for the disturbance of her visit, and lure her back to their father with tales of their Great Aunt Adelaide's wealth.

However the children discover that Mrs. Quickly is just as cruel as they suspected when she breaks their real mother's rattle (The only thing they had left of her). When everybody is gathered for the marriage ceremony, they disturb the ceremony by pretending there are bees, chasing the guests, and throwing the pastries intended for the banquet at everyone present. Cedric understands they do not like the bride, and does not like her himself, and therefore starts disturbing the ceremony himself. Mrs. Quickly cancels the marriage and storms off. This seems to mean that Adelaide's marriage deadline is missed. But Simon asks Evangeline whether she loves Cedric. She first denies, explaining that that would be inappropriate because of her station as maidservant, but then confirms she does. Cedric marries Evangeline the same day, Nanny McPhee magically makes it snow which changes wedding decorations, satisfying Aunt Adelaide's demand. And she also restores the children's real mother's rattle for them.

Nanny McPhee leaves surreptitiously, in accordance with what she told the children before: "When you need me, but do not want me, then I must stay. When you want me, but no longer need me, then I have to go."


CAST

Emma Thompson as Nanny McPhee
Colin Firth as Cedric Brown
Kelly Macdonald as Evangeline
Angela Lansbury as Great Aunt Adelaide Stitch
Celia Imrie as Mrs. Selma Quickly
Imelda Staunton as Mrs. Blatherwick
Derek Jacobi as Mr. Wheen
Patrick Barlow as Mr. Jowls
Thomas Sangster as Simon Brown
Eliza Bennett as Tora Brown
Jennifer Rae Daykin as Lily Brown
Raphaël Coleman as Eric Brown
Samuel Honywood as Sebastian Brown
Holly Gibbs as Chrissy Brown
Hebe and Zinnia Barnes as Aggie Brown
Adam Godley as the Vicar


BOX OFFICE

The film did well at the box office, earning $122,489,822 - $47,144,110 in the United States and $75,345,712 elsewhere. It premiered in the United States on 27 January 2006 with an opening weekend total of $14,503,650 in 1,995 theaters (an average of $7,270 per theatre) ranking at No. 2 (behind the Martin Lawrence film Big Momma's House 2).

SEQUELS

Emma Thompson revealed on Friday Night with Jonathan Ross that two more films were planned. The second film, Nanny McPhee and the Big Bang (also called Nanny McPhee Returns), was released in March 2010. It co-stars Rhys Ifans, Maggie Smith, Ralph Fiennes and Maggie Gyllenhaal. The character of Aggie Brown returns as the now elderly Mrs. Docherty. In it, Nanny McPhee takes charge of the children of a woman whose husband has gone to war. A third film, set in modern day, is said to be in the early stages of production, with Thompson currently writing it, and is now filming it. It is set to be released in 2015. A fourth film will take place in the far future, which Thompson has already "pretty much written".
Nanny McPhee - Youtube
LINKS
http://www.telegraph.co.uk/culture/theatre/11110749/Emma-Thompson-Can-she-cut-it-on-the-stage.html
http://en.wikipedia.org/wiki/Nanny_McPhee_and_the_Big_Bang
http://en.wikipedia.org/wiki/Nanny_McPhee
http://en.wikipedia.org/wiki/Emma_Thompson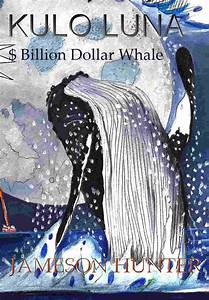 A whale of a tale