THE JUDGES
| | |
| --- | --- |
| | |
| Darcey Bussel | Len Goodman |
| | |
| | |
| Craig Revel Horwood | Bruno Tonioli |
LATEST
Strictly Come Dancing judge Craig Revel Horwood has said he thinks that Denise Van Outen will not win the dance competition this year:
"I love Denise. I think she is our best all-rounder in the competition but the audience are just not voting for her." "Why? Maybe they think she is just too good and they would prefer an underdog to win. She needs to get out there this week and canvass for votes like a politician."

His comments came after Van Outen beat an emotional Lisa Riley in last night's semi-final dance-off. Van Outen, who was a former favourite to win, finished in the bottom two for the second week running.

Riley and her partner Robin Windsor danced the American smooth to All That Jazz from the musical Chicago – which Van Outen has starred in. More than 10.7 million viewers watched Sunday's semi-final results. The show, which aired from 6.50pm on BBC One, had one of its highest audiences yet. Kimberley Walsh, Louis Smith, Van Outen and Dani Harmer all made it through to the final weekend.

The show was the most watched of the day, although BBC Sports Personality of the Year 2012, which followed, had a higher audience peak of 14.48 million. The Strictly Come Dancing final is on Saturday 22 December at 6.30pm, with the concluding part at 8.50pm.
HISTORY
The internationally renowned television competition, Strictly Come Dancing, is a British entertainment show, featuring celebrities with professional dance partners competing in Ballroom and Latin dances. The title of the show suggests a continuation of the long-running series Come Dancing, with an allusion to the film Strictly Ballroom. The format has been exported to over 40 other countries (see Dancing with the Stars), and has also inspired a modern-dance themed spin-off Strictly Dance Fever.

The show has run on BBC One since 15 May 2004, primarily on Saturday evenings. The 9th series ended on 17 December 2011 and the first competitive show of the 10th series was on 5 October 2012. A further seven stand-alone Christmas Specials have also been produced, in consecutive years from 2004 to 2010. Six charity specials have also been produced. Since the fourth series, the show has also been aired in high definition on BBC HD and BBC One HD from series 8.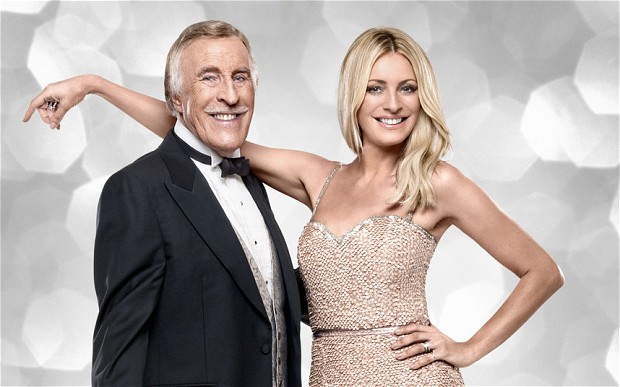 Presenters: Bruce Forsyth and Tess Daly


Format

The show pairs a number of celebrities with professional ballroom dancers who each week compete against each other to impress a panel of judges and the viewing public in order to survive potential elimination. Through telephone voting, viewers vote for whom they would like to stay, the results of the poll being combined with the ranking of the panel of judges. For example, with four contestants left, the judges' favourite would receive four points, second favourite three points, and so on, and similarly with the viewers' rankings. The profits from the telephone lines were donated to Sport Relief in series 1, and to Children in Need from series 2 to 5.

The show is broadcast live on BBC One on Saturday evenings, and is presented by Bruce Forsyth and Tess Daly. For some of the second series, Natasha Kaplinsky stood in temporarily for Tess Daly while she took maternity leave. The judging panel initially consisted of Bruno Tonioli, Arlene Phillips, Len Goodman and Craig Revel Horwood. Alesha Dixon took Phillips' place from series 7 to 9, after which she left the programme to judge Britain's Got Talent. Goodman and Tonioli commute weekly between Hollywood and London to judge both the American and British versions of the show simultaneously. Each judge gives the performance a mark out of ten, giving an overall total out of forty. The voice-over announcer is Alan Dedicoat. During series four, an hour-long highlight show was shown on Sundays at 19:00 on BBC Two, and during series five and six, the results show moved to Sunday evenings, although it was filmed on Saturday and then broadcast "as live" on the Sunday.
Alesha Dixon


The singers on the show are Tommy Blaize, Hayley Sanderson, Lance Ellington and Andrea Grant. The music director is David Arch. Tommy Blaize has been part of Strictly since its beginning. In Series 3, Lance Ellington and Andrea Grant joined the singing team. David Arch joined in the fourth series and Hayley Sanderson in the fifth.

The show is broadcast from a specially constructed set at the BBC Television Centre. However, in the first two series, shows were also filmed at the Tower Ballroom in Blackpool, where the original Come Dancing series was filmed in the 1970s.

In the second series, two shows were filmed at the Tower Ballroom, show five and the Grand Final which was broadcast live on 11 December 2004. In 2005 though the BBC announced that they would not be returning to the venue for the third series due to "logistical problems". In October 2008, Craig Revel Horwood called for the series to return to the Tower Ballroom, saying, "the atmosphere was electric. It's huge and has so much history. The Tower Ballroom puts a lot of pressure on the professionals and the celebrities to perform to the best of their potential. What a wonderful place to go live to 12 million people. We have got to get the BBC to bring Strictly Come Dancing back to Blackpool." Eventually, the show did return to the Tower Ballroom, for series 7, where Blackpool-born Craig Kelly was eliminated. The episode was aired live on 7 November 2009. Strictly Come Dancing returned to Blackpool for the 2010 and 2011 series.

PRESENTERS
Sir Bruce Forsyth (current)
Tess Daly (current)
Claudia Winkleman (current)
Zoë Ball (It takes two)
PROFESSIONAL PAIRS

As of September 2012 the professional pairs are:

| | | |
| --- | --- | --- |
| Male | & | Female |
| | | |
| Brendan Cole | & | Natalie Lowe |
| Pasha Kovalev | & | Aliona Vilani |
| Artem Chigvintsev | & | Karen Hauer |
| Robin Windsor | & | Kristina Rihanoff |
| Anton du Beke | & | Erin Boag |
| James Jordan | & | Ola Jordan |
| Vincent Simone | & | Flavia Cacace |
| | | |
Many of the dancers form professional partnerships, dancing competitively or for show. Darren Bennet and Lilia Kopylova, and James and Ola Jordan are married, while Matthew and Nicole Cutler are divorced but still professional partners. Anton du Beke and Erin Boag, have danced as professional couples since 1997; Vincent Simone and Flavia Cacace are a former Argentine Tango world champion couple. Ian Waite and Camilla Dallerup also form a professional partnership, while Brendan Cole and Katya Virshilas danced professionally for several years before parting in November 2009.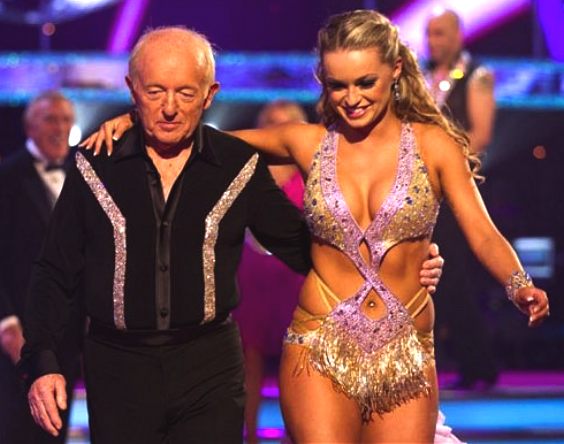 Dances

The Waltz, Cha Cha Cha, Quickstep, Rumba, Tango, Jive, Foxtrot, Paso Doble and Samba have all been danced since Series 1

The American Smooth and the Viennese Waltz were added in Series 3

The Salsa and the Argentine Tango were added in Series 4

No more dances were added until Series 7 week 11 when couples performed either a Charleston (which winner Chris Hollins chose to perform again in the final) or a Rock N' Roll routine. The final also featured a head-to-head Lindyhop. Of these dances, only the Charleston was retained for subsequent series.

Series 8 introduced the Swing-a-thon, where all remaining couples dance Swing simultaneously and are voted off the dance-floor one by one by the judges until only one couple remains

A Show-dance (Freestyle) has always been performed in the series final as a last chance for couples to impress the public

Coaching

As of series four, coaches are Jaclyn Spencer and Chris Marques (aka Cuban Groove) for Salsa and Mambo, and Jenny Thomas and Ryan Francois for Swing, Jive, Rock n Roll and The Charleston. The Argentine Tango coaches in Series three were Flavia Cacace and Vincent Simone, both of whom have subsequently competed in the show.

Dance Off

From Series 5, a new system was introduced called the Dance Off. The Dance Off is performed by the two couples with the lowest scores following the judges' scores and public vote. After performing their dance again, the judges are asked one-by-one who they would like to save, and the couple with the most votes remains in the competition. If there is a tie, head judge Len Goodman has the deciding vote.

The results show is recorded on the Saturday night directly after the live show and incorporates the result of the viewers' votes which are completed by 21:30. This was confirmed by the official BBC website in 2008:
The Sunday show is recorded on Saturday night but no element involving the results of the vote will start recording until after lines are closed and votes counted and verified.

Throughout the Sunday results show the presenters refer to 'last night' in reference to the main show, due to the timing of the Sunday programme, and Tess Daly's dress is changed to present an illusion of a second live broadcast.

For Series 7, the Sunday results show was axed and put back to Saturday nights as a result of a revamp of the show.

From Series 8 the Dance Off was axed with the public having 50% of the decision of who is to be eliminated, the other 50% coming from the judge's scores. The result show is shown on Sunday.
For series 10 the dance off was reintroduced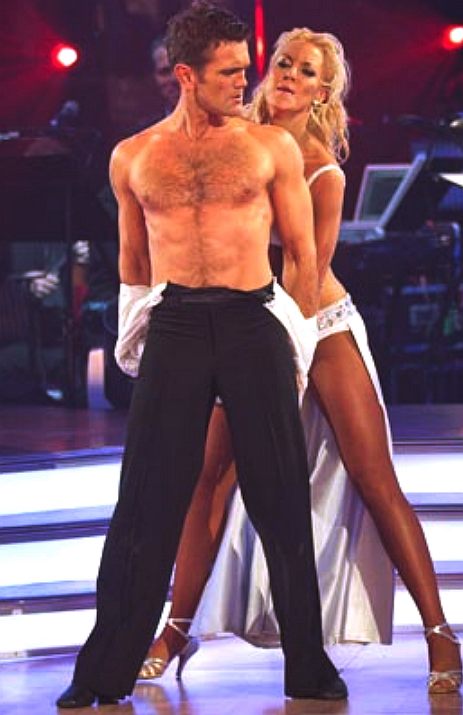 Strictly: It Takes Two

During the run of Strictly Come Dancing, Strictly: It Takes Two is broadcast each weeknight on BBC Two, The series was previously hosted by Claudia Winkleman, however due to her pregnancy in 2011 she has had to leave the series and Zoë Ball took over from Series 9.

The show features reviews of the performances during the previous Saturday show, and interviews with and training footage of the couples preparing for the next show. The judges and other celebrities also provide their opinions on how the couples are doing. It Takes Two replaced Strictly Come Dancing on Three, hosted by Justin Lee Collins, which ran on BBC Three during the first series. BBC Two Scotland airs the programme on four nights only, running their own Gaelic-language programming on Thursdays instead.
10th SERIES
As with last series there will be 14 celebrities taking part, the professionals were revealed on 23 June 2012. The full line-up was revealed on 10 September 2012 on The One Show.

Johnny Ball was originally partnered with Aliona Vilani; however, following an injury sustained in training, Iveta Lukosiute was hired as a replacement partner. This was originally intended as a short-term measure until Vilani was able to return; however, following doctor's advice, it was confirmed that Lukosiute would be Ball's full-time partner.
COUPLES
Celebrity
Known for
Professional partner
Status
Johnny Ball
Mathematician & presenter
Iveta Lukosiute
Eliminated 1st
on 14 October 2012
Jerry Hall
Supermodel & actress
Anton du Beke
Eliminated 2nd
on 21 October 2012
Sid Owen
EastEnders actor
Ola Jordan
Eliminated 3rd
on 28 October 2012
Colin Salmon
Actor
Kristina Rihanoff
Eliminated 4th
on 4 November 2012
Fern Britton
Television presenter
Artem Chigvintsev
Eliminated 5th
on 11 November 2012
Dani Harmer
Actress
Vincent Simone
Eliminated 22nd December 2012
Denise van Outen
Actress, singer & presenter
James Jordan
Joint runners up
Kimberley Walsh
Girls Aloud singer
Pasha Kovalev
Joint runners up
Lisa Riley
Actress & presenter
Robin Windsor
Eliminated 15th December 2012
Louis Smith
Olympic artistic gymnast
Flavia Cacace

WINNER

Michael Vaughan
England cricketer
Natalie Lowe
Eliminated 1 December 2012
Nicky Byrne
Westlife singer
Karen Hauer
Eliminated 9th December 2012
Richard Arnold
Daybreak presenter
Erin Boag
Eliminated 17 November 2012
Victoria Pendleton
Olympic track cyclist
Brendan Cole
Eliminated 24 November 2012
COUPLES
Dani & Vincent

21
27
48
29
27
33
34
36
36
34
38
34+38=72

Denise & James

25

32

57

32

28

35

36

39

37

32
35
39+38=77

Kimberley & Pasha

28
26
54
29
31
33

34

34
34
34

40

38+

40

=

78

Lisa & Robin

5

30

25
55
29
26
27
32
32
27
31
30
31+32=63

Louis & Flavia

27
30

57

30

35

29
33
30
27

37

37
31+38=69

Michael & Natalie

7
20

15

35

19

31
31

26

30
26
24

Nicky & Karen

6
17
18

35

27
26
25
30

34

36
30
27

Richard & Erin

9
22
19

41

25
22

17

29
24

Victoria & Brendan

8

16

26
42
22
31
23
30
24
21

Fern & Artem

10
19
24
43
23
21
24

27

Colin & Kristina

11
23
24
47
26

24

27

Sid & Ola

12
26
22
48

17

17

Jerry & Anton

13
18
18
36

18

Johnny & Iveta

14

17
20

37
the couple eliminated that week.

the couple that was in the bottom two that week but not eliminated.

the couple withdrew from the competition that week.

the winning couple.

the runner-up couple.

the third-place couple.

Red text the couple(s) with the lowest score for that week.

Green text the couple(s) with the highest score for that week.

"—" indicates the couple(s) did not dance that week.
Average chart -

This table only counts for dances scored on a traditional 40-point scale.
1
Denise & James
188
6
31.3
2
Louis & Flavia
184
6
30.6
3
Kimberley & Pasha
181
6
30.2
4
Dani & Vincent
171
6
28.5
5
Lisa & Robin
169
6
28.2
6
11
Colin & Kristina
124
5
24.8
7
Victoria & Brendan
148
6
24.7
8
Nicky & Karen
143
6
23.8
9
Michael & Natalie
142
6
23.7
10
10
Fern & Artem
138
6
23.0
11
Richard & Erin
134
6
22.3
12
12
Sid & Ola
82
4
20.5
13
14
Johnny & Iveta
37
2
18.5
14
13
Jerry & Anton
54
3
18.0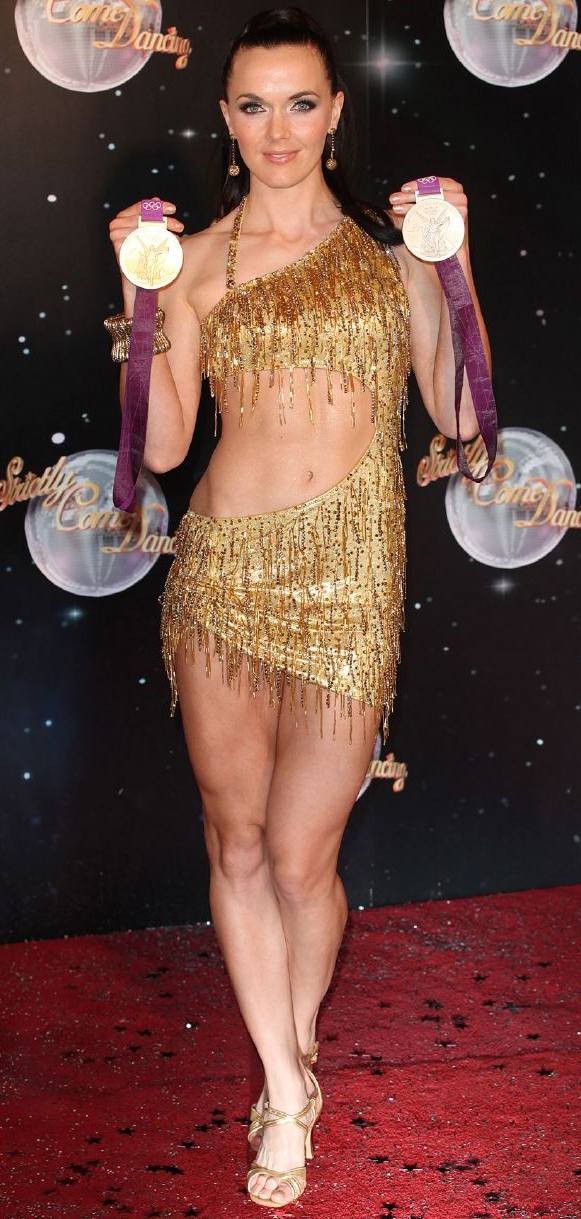 Victoria Pendleton, Olympic gold medalist
Couples' highest and lowest scoring dances
Couple
Highest scoring dance
Lowest scoring dance
Dani & Vincent
Tango (34)
Waltz (21)
Denise & James
Paso Doble (36)
Waltz (25)
Kimberley & Pasha
Viennese Waltz (34)
Foxtrot (26)
Lisa & Robin
Foxtrot (32)
Viennese Waltz (25)
Louis & Flavia
Tango (35)
Cha-Cha-Cha (27)
Michael & Natalie
Quickstep
Foxtrot (31)
Jive (15)
Nicky & Karen
Foxtrot (30)
Waltz (17)
Richard & Erin
Charleston (29)
Foxtrot (17)
Victoria & Brendan
Tango (31)
Cha-Cha-Cha (16)
Fern & Artem
Salsa (27)
Cha-Cha-Cha (19)
Colin & Kristina
Foxtrot (27)
Cha-Cha-Cha (23)
Sid & Ola
Waltz (26)
Tango
Cha-Cha-Cha (17)
Jerry & Anton
Cha-Cha-Cha
Foxtrot
Quickstep (18)
Cha-Cha-Cha
Foxtrot
Quickstep (18)
Johnny & Iveta
Foxtrot (20)
Cha-Cha-Cha (17)
LINKS and REFERENCE
Strictly Come Dancing' return date confirmed: Watch series 10 trailer - Strictly Come Dancing News - Reality TV
Strictly Come Dancing: Darcey Bussell joins Strictly!
Strictly Come Dancing' axes professional dancer Katya Virshilas - Strictly Come Dancing News - Reality TV
Strictly Come Dancing: New professional dancer for Strictly 2012
Be in the audience - Strictly Come Dancing.
Kylie Minogue, Girls Aloud for Children In Need 'Strictly' special? - Strictly Come Dancing News - Reality TV
Bruce Forsyth to take 'Strictly Come Dancing' break - Strictly Come Dancing News - Reality TV
Newsbeat - Strictly Come Dancing: New partner for Johnny Ball
Twitter / Johnnyballco: Good News - Bad News. Aliona's
Blogs - Strictly Come Dancing - Week 1: Final Leaderboard
Blogs - Strictly Come Dancing - Tonight's dances and new opening sequence
TV Programme Information from Saturday 20 October to Friday 26 October
BBC One - Strictly Come Dancing, Series 10, Week 6, Week 6: Friday Feeling
Twitter / The_JamesJordan: At training already with the
BBC iPlayer - Strictly - It Takes Two: Series 10: Episode 27
Twitter / Reallisariley: Well some of you were right!!
Twitter / TeamFlouia: #TeamFlouia have a Quickstep
Twitter / MichaelVaughan: Training done for the day
Twitter / nickybyrneoffic: Thanks to all who voted again I'm
Twitter / RichardAArnold: "@garlicsauce99
BBC iPlayer - Strictly - It Takes Two: Series 10: Episode 28
BBC - Media Centre - Programme Information - Strictly Come Dancing
Telegraph Strictly Come Dancing 2012 Denise Van Outen will not win says judge Craig Revel Horwood
| | |
| --- | --- |
| Evolution of Dance - Youtube | Best Dance - Youtube |
---