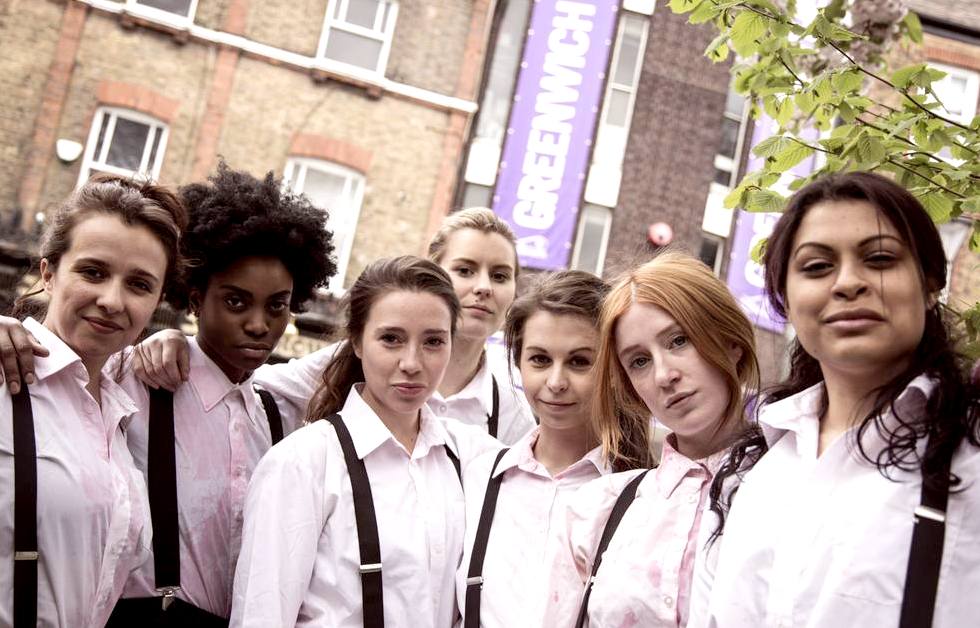 THE CAST - Titus Andronicus (minus Emma Nixon) outside the Greenwich Theatre, London 2015. Congratulations to a great cast for superb individual and group performances. 'Smooth Faced Gentlemen' was formed in 2012 after being inspired by gender-swapping in the RSC's King John, and all male companies such as Propeller. Othello is their third show, following from the box office hit Titus Andronicus and Romeo and Juliet. Winners of the John Beecher Award for Innovative Theatre (2013).
WHAT NEXT FOR 2016 >>>> ?
At the moment we can find nothing published about forthcoming performances, leaving followers with naught to look forward to (12-4-16). Granted that the Edinburgh Fringe in September 2015 took its toll, but, this troupe is doing so well, should they take a break or re-group after a mind shuffle?
One of the problems with organizations like the Smooth Faces, is that should the project leaders run out of steam, the whole venture comes to a grinding halt. It is though inevitable if the brand is not cast in stone - which at the moment it is not. We would suggest a limited company at the very least, but more solid intellectual property acquisition if you are to be taken seriously.
Put yourself in the founders position's for a moment. How long do you think you could hold down two jobs and cope with the stress of running a dramatic production? Imagine keeping that up for three years or more. Imagine the financial burden if outgoings exceed income. Granted that hobbies can be expensive, if that is all this is: a hobby?
We doubt that. For sure it is a valuable stepping stone for the changing cast over the years and a real opportunity to gain experience and make friends, but we doubt this began as a hobby. It could be a bold career move; but are they ready for that? They certainly have the skill sets to make it happen. The critics love them, now what about their bank manager.
DIG WHERE THE GOLD IS
The effort in mounting any kind of event like this is phenomenal. You could use the same amount of energy and put on a world class performance on an international stage, or arrange a surprise birthday party at your local pub. It is for this reason that identifying and planning a strategy that will pay-off, not just in terms of ticket sales, but also in terms of longevity; is vitally important. We fear that this has been overlooked in this case - as a surge of enthusiasm made the running. Crucially, there is no evidence of any investment in IP. Without such investment, there is no cohesive package for backers - there is bags of enthusiasm, but no solid IP to cement returns for interested sponsors or philanthropic backers - and yet there could so easily be a business case.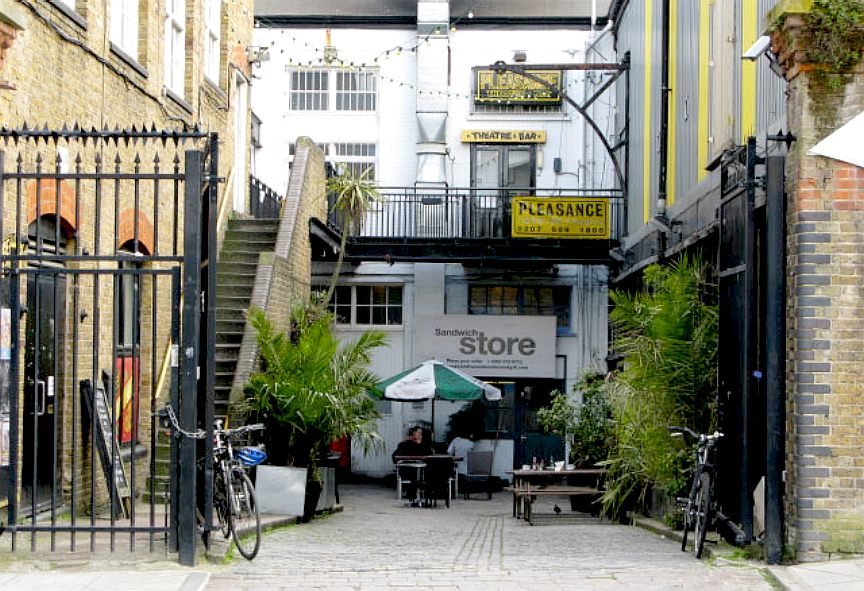 ISLINGTON - The Pleasance Theatre is a great venue for fringe performers. It has bags of character and the facilities to cope with multiple performers and performances, some of which are on stage for minutes, and others on stage for an hour or more.
WHAT IS THE MARKET LOOKING FOR ?
A common mistake that drama groups make, is putting all their energy into a niche that is not attractive to potential sponsors or investors. In our opinion, Titus was then a huge risk and a bold experiment, when, if people want to experience Shakespeare, they might prefer something more lavish. In our opinion it is a margin call with the Smooth Faces. We were hoping to see performances that knocked us sideways, but instead saw a competent low budget portrayal of a play that only a small percentage of the population would pay to see, even in full blown livery. The acting was superb, no denying that, but there was something missing and we are not just talking about the paint brushes that we were to imagine were swords, and the white shirts and black jeans to replace armour, jerkins, tunics and bodices. That was though a brilliant ploy to overcome being under funded and is great for portable Fringe theatre, but how portable was it. The set was actually fairly bulky presenting possible transport problems.
The 'Litmus Test' is: - Would we pay to see productions like these again?
Not in the present guise. But there is considerable scope and that is what constructive criticism is all about. By pointing out possible shortcomings, we are attempting steerage of an alternative course to alternative obscurity, looking for potential gains for the concept. We are looking for the gold. That does not mean that we have a winning formula in a conjuror's black hat. The right formula might be one where theatre goers rush to a performance and tickets sell out routinely. You may not like the commercialization, but then, there is funds in the kitty to sweeten artistic passions. But, again, where is the gold?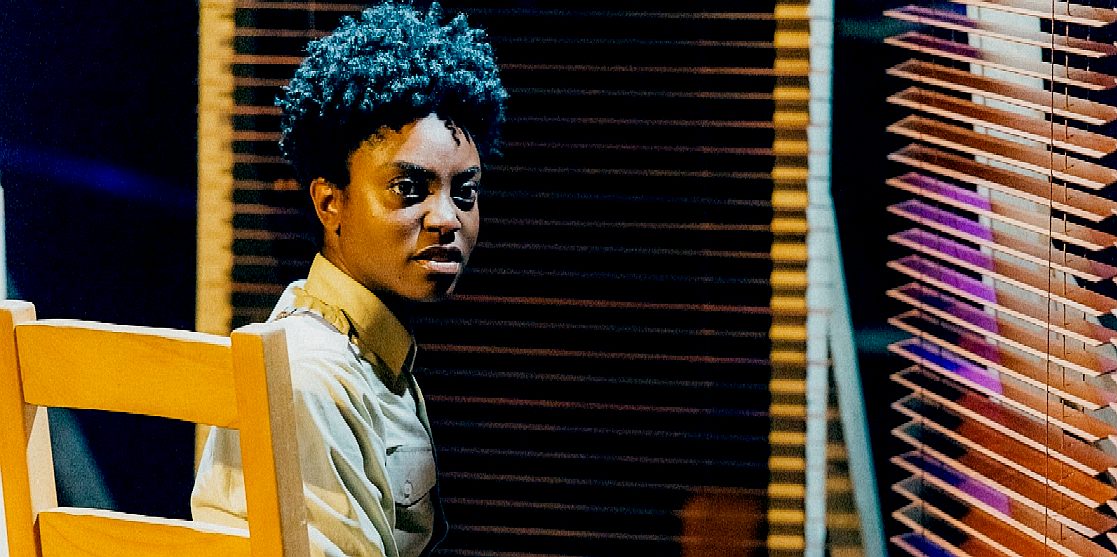 THE VILE BLOG - 11 AUGUST 2015 - What inspired this production: did you begin with an idea or a script or an object?

In both cases, we start with a script, but the immediate first step is to search for a starting point to approach it. For us, gender is always a theme in our work (which informs the cut of the script). But the 'concept' of each show comes from spending weeks analysing the text, and researching the play and its history.

In Titus, we started by asking ourselves how we would approach the violence and gore. It seemed that historically people had taken one of two choices - something realistic, or something abstract, and we were looking for something in between the two. I think we came up with something pretty good...

For Othello, the themes of dark and light, shadow and impaired vision were interesting to us, plus finding a parallel to the political tensions of the time that we could recognise today. Researching different eras of the 20th Century led us to the 1950s, and oddly that led straight to the Venetian blinds that dominate our aesthetic.

Why bring your work to Edinburgh?

It's great to get it in front of a whole bunch of like-minded people. The opportunities to build networks are unparalleled. Plus, it's a great place to get reviewers and national press in, and tour bookers and so on.

But mostly, we just love it. There's nowhere else in the world with the same buzz.

What can the audience expect to see and feel - or even think - of your production?

In Titus, the absurdity and horror of war and violence. They'll see the blood and gore replaced with paintbrushes and bright red paint, and the play treated with the sense of humour that should be reserved for the darkest acts of humanity.

In Othello, it's less stark, but more dark. While Titus is a constant struggle between the tragic and comic, Othello begins as a comic colourful noire, but the darkness slowly, almost imperceptibly, invades the space.
Othello was directed by Yaz Al-Shaater (Boris: World King, Not the Messiah), and stars Anita-Joy Uwejah (Gone Too Far – Royal Court, A Day at the Racists - Rogue State Theatre, the Finborough Theatre) as Othello and Ashlea Kaye (In The Dark – National Arts Service, The World's Greatest Walking Tour of Edinburgh, Pleasance, 2012), Artistic Director and Co-Founder of Smooth Faced Gentlemen as Iago.
THE PLOT - Othello, newly married to Desdemona is dispatched to war. Iago, overpassed for promotion by Cassio plots revenge on Othello and misguides Othello into believing Cassio is having an affair with Desdemona. Smooth Faced Gentlemen bring wit and humour to Othello, Shakespeare's classic tragedy of revenge, jealousy and conspiracy, playing each character to their original gender.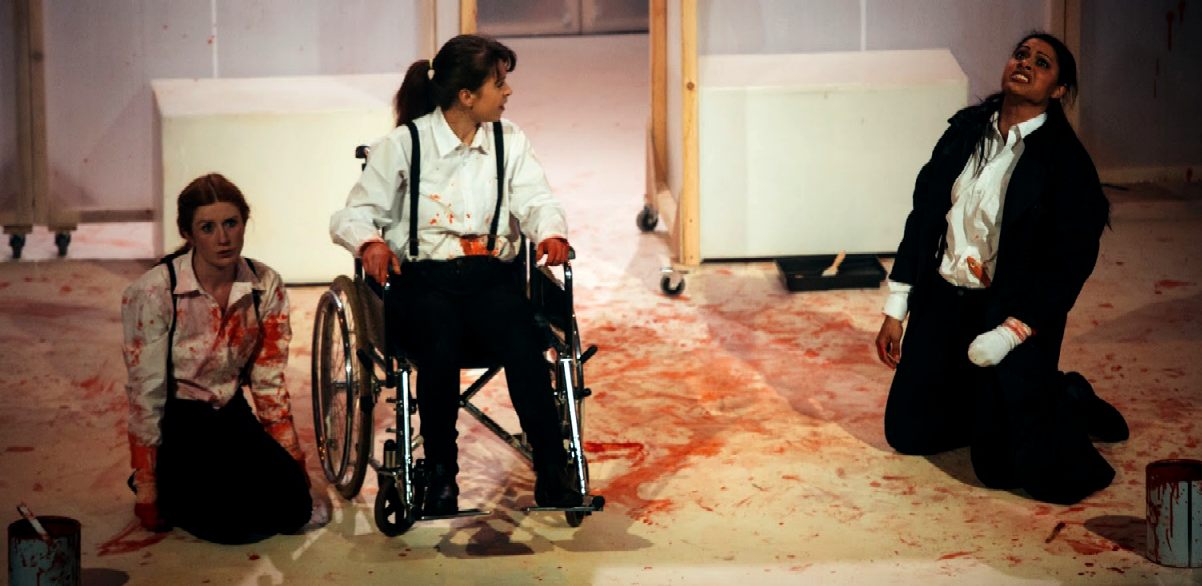 THE DRAMATURGY QUESTIONS - How would you explain the relevance - or otherwise - of dramaturgy within your work?

We have two dramaturgs who both work on both plays. They come with very different aims and ideas, but ultimately both exist to make sure the stories and messages of our work are consistent and clear, and the actors have all the tools they need to present those things. We couldn't create our work without them.

What particular traditions and influences would you acknowledge on your work - have any particular artists, or genres inspired you and do you see yourself within their tradition?

We have three distinct areas of influence, and we believe our work exists in the tension between the three. One is traditional classic Shakespeare practice - verse work, aggressive attention to the language, lots of research into the body of work created. Much of our rehearsal process involves training in these very classical ways.
The second is contemporary theatre, where several of our team have a background.

Visual, interactive, non-verbal, and physical theatre elements all pervade our work, and we believe applying the ideas and unbridled creativity that comes with that to Shakespeare is the best way to keep it relevant and exciting. And the third is the simple but strangely unfashionable art of comedy theatre. The traditions of farce, slapstick, double-takes and general silliness. The more you can make an audience laugh, the more engaged they are, and the more it'll hurt when you hit them with something serious.

Do you have a particular process of making that you could describe - where it begins, how you develop it, and whether there is any collaboration in the process?

We start by gathering casts of actresses to do readings of each of the scripts on our short-list for each project, followed by discussions on the themes of the play and its suitability for our company. From there we choose a play, and then cast it.

For the first week of rehearsals, we don't give the cast their roles. Instead, we explore the themes of the play, and do a lot of R&D on the characters and their relationships. We unlock a lot of gold during this group development period.

Then it's on to the 'normal' rehearsal process. We try and bring in a designer very early, plus our two favourite areas of 'lighting' and 'fighting'. We always try and integrate these elements that are traditionally only applied at the end very early.

Our rehearsals involve a lot of games and experimentation. Partly to explore how we're approaching the acts of playing the gender in this particular production, and partly as method to unlock the text.

The other thing that typifies our work is we try and have a lot of previews. Since we're never gonna be eligible for a Fringe First (the plays were written quite a bit ago!), we're not constrained to the 3-4 most fringe shows do, and we feel we can only really develop the work whilst showing it in front of a live audience.

What do you feel the role of the audience is, in terms of making the meaning of your work?

I think all theatre companies say that their work is all about the audience, but in practice many forget that. By sharing our work regularly at every stage of the process, we try hard to keep it audience-centric.

When working on contemporary Shakespeare, to do it justice, you have to be aware that your audience is always going to be divided, in some proportion between a) people who aren't familiar or necessary comfortable with Shakespeare or that play, and b) people who've seen the play many times before. The proportion varies depending on the venue, your marketing, your following, etc, and I think you have to make a call if you're trying to appeal to one or both groups. Both groups come with preconceptions that can be problematic if ignored, but can be incredible fun to manipulate!

For us, this is why previews are so important. They're vital to discover how an audience responds and what they understand: which jokes land and which bomb; when they shuffle and when you can hear a pin drop.

Since our first sharing, we've had three major re-edits of our script, all of which have made cuts but also have brought in material from the full text, and two of which comprises a radical restructuring or rethinking of characters.

So I think listening to an audience is critical to making successful work. I don't think you should often take all the direct feedback as gospel, but extrapolating the underlying issues or inconsistencies that lead to people's responses is key.

Are there any questions that you feel I have missed out that would help me to understand how dramaturgy works for you?

"What is a dramaturg?"! I'm joking of course. Every project we get asked that, and I basically spent three years studying that at drama school, and I still can't answer it.

I just know that I believe all productions should have one. Allows you to be unconstrained and uncensored in your creativity, knowing there'll be a separate person and time to challenge your choices. They keep you on the straight and narrow!
FRINGE THEATRE
Fringe theatre is theatre that is experimental in style or subject matter. The Smooth Faces come into this category fair and square. The term comes from the Edinburgh Festival Fringe. In London, the Fringe is the term given to small scale theatres, many of them located above pubs, and the equivalent to New York's Off-Off-Broadway theatres and Europe's "free theater" groups.
The Edinburgh Festival Fringe is the largest arts festival in the world and takes place every August for three weeks in Scotland's capital city. In 2015 the event spanned 25 days and featured 50,459 performances of 3,314 shows in 313 venues. You would then need to be outstanding to get a look in - the odds are against you.

In un-juried theatre festivals, all submissions are accepted, and sometimes the participating acts may be chosen by lottery, in contrast to juried festivals in which acts are selected based on their artistic qualities. Un-juried festivals (e.g., Edinburgh Festival Fringe and Adelaide Fringe Festival, and Fringe World) permit artists to perform a wide variety of works. That does not mean that the acts are considered to have mainstream merit, though of course many go on to develop an artiste as the stepping stone to a career.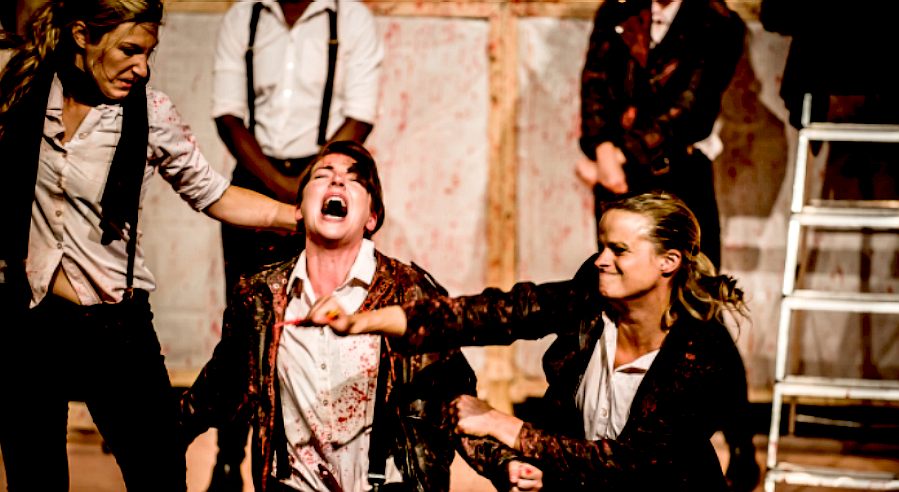 ELIZABETH WILLIAMS 19-8-15 - Armed with an all female cast and gallons of red paint, the award winning Smooth Faced Gentlemen return with this colourful retelling of Shakespeare's bloody drama.

Smooth Faced Gentlemen carved their niche for all female productions of Shakespeare, continuing to create innovative and intelligent adaptations that hold their own alongside the big dogs of Bard work. Taking advantage of the numbers of talented female actors that outweigh casting calls, this production displays some superb performances, clever staging, and original design choices, very much in keeping with their fresh and unapologetic style.

The piece begins with a high-energy fight scene, introducing the company's answer to portraying this violent play – swords are replaced with paintbrushes, and blood with lots and lots of red paint. It's a clever technique, especially enjoyed when the characters get inventive with the concept. Paintbrushes vary in size and shape, having an effect driven by masculine energy and competition. The violent acts (Warning: Spoiler alert for those who haven't read the play) of throat slitting, finger cutting, and tongue removal are achieved to sharp affect, and with thorough conviction.

Performances from the strong ensemble cast vary, but there is a thorough understanding and some interesting interpretations of the text. Titus is performed by a very capable Henri Merriam, but it is Emily Bairstow's Tamora that steals the show. The young actress has a presence that you are unable to take your eyes off from start to finish, teamed with a righteous and gutsy Aaron, played by Anita-Joy Uwajeh, who is also a name to watch.

It's a very enjoyable and satisfying show, the story told with a punchy pace and well judged timing. The choral elements involving the whole cast were particularly well placed, carrying the narrative with an ethereal beauty and aiding troublesome transitions. The pleasing set swelled and swayed with the gravity of the character's realisations, continually surprising and always supporting stage presence. The quality of speech and tackling of some text was unfortunately not as satisfying, with words sometimes lost within one intention or lack of direction. Volume played a large part in this, having a consistent level with little variation, causing the denser moments to fall flat. However, the energy of the young cast makes up for this, with effective multi-rolling and clear, precise physical choices.

I want to say Smooth Faced Gentlemen are certainly paving the way for all-female theatre groups, but the all-female part is not important, and an unfair brush to continuously paint them with. The fact that they create performances with women does not surpass the fact that they make exciting, enjoyable performances as a theatre group, full stop. The fact they tackle the arguably misogynistic works of the Bard delivers a delicious piece of irony to their mission statement, which certainly feeds into their directing and staging choices. This performance is bold, ballsy, and challenges the audience with imagery that burns onto your brain, but probably best avoided by the squeamish.
ASSET MANAGEMENT
Distasteful though it may be to the art world, theatres have to make money. Rent, rates, equipment and property maintenance soak up money. Registering as a charity for the arts eases that pain, but nothing more. Theatres must then look for other sources of support, such as sponsors - when being commercial comes into the frame once again. Acts like the Smooth Faces hire theatres, taking the chance that ticket sales will outstrip the production costs. Risk sharing is part of theatre operations. Money then, must be top of your agenda.
At the end of the day art has to pay. As the saying goes; "money makes the world go around." Family, friends and the goodwill of theatres and media will only go so far. You have to show them where the gold is buried - not bury their gold.
The troupe might also like to consider that a reputation is an asset that depreciates with time.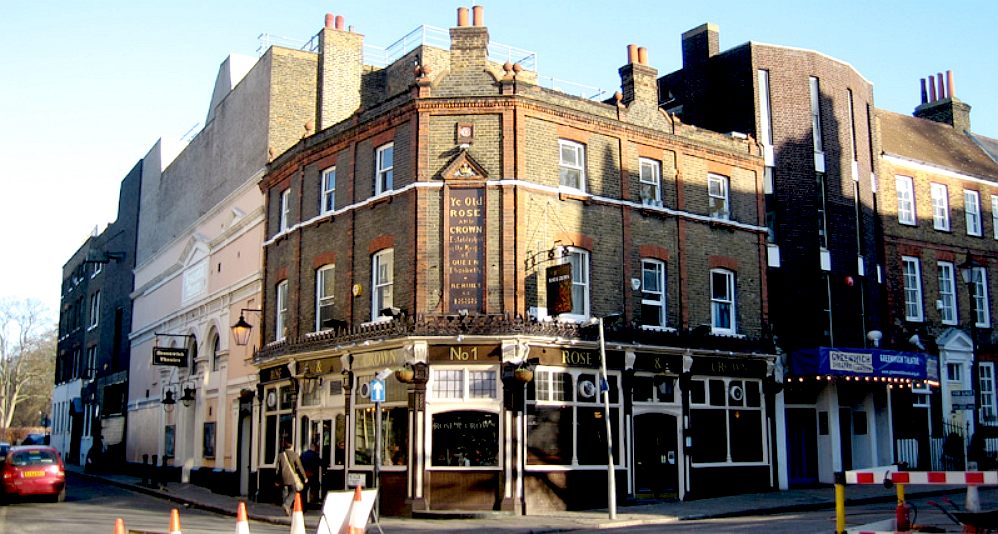 THE GREENWICH THEATRE - The Greenwich Theatre is a local theatre located in Croom's Hill close to the centre of Greenwich in south-east London. Theatre first came to Greenwich at the beginning of the 19th century during the famous Eastertide Greenwich Fair at which the Richardson travelling theatre annually performed. The current Greenwich Theatre is the heir to two former traditions. It stands on the site of the Rose and Crown Music Hall built in 1855 on Crooms Hill at the junction with Nevada Street. But it takes its name from the New Greenwich Theatre built in 1864 by Sefton Parry on London Street, opposite what was then the terminus of the London and Greenwich Railway.
FINANCING & EQUITY RELEASE
Again, the 'Litmus Test' is - Would you put your biggest asset (your house or Ferrari) on the line?
A house is the most used "equity" asset in securing finance to begin any business, banks will lend against your home as security (not your Ferrari). Most entrepreneurs consider such a gamble and many sign on the dotted line, but they would truly have to believe. A house (usually) represents a lifetime of grafting and security; an asset for the brave.
If you were a property developer, or a builder, you could take that same asset and multiply it by selling one house and building two or three more. Why then might you look at risking (offering as security) a home to finance the production of a play? It is madness, unless the play is a well known sell-out production, with guaranteed year-on-year proofs of profits that far exceed the expectations of other, safer, investments. Investors who gamble their assets in this way are called Business Angels - or in insurance: names.
It is important to keep track of expenditure and receipts (keep accounts) to be able to determine the value of a production. This will tell you if you have a show that is an investment and invest-able. Figures do not lie. The more detail that is included, the more you can rely on your accounts as a tool to define future prospects. Just how big is the gamble - it might be a sure thing.
By the same token, a house (a major asset) will appreciate in line with improvements - where expenditure will show you what kind of improvement is making more for you in terms of returns. To a business person a house is just another asset for equity release. A non-business person will view such an asset differently, it's all about mental agility. In business, serial entrepreneurs have extremely agile minds that do not focus on a single element, but view the situation globally. Good examples are Luke Johnson and Elon Musk.
Our advice where margin calls are involved, is not to stake any major asset, but to look at ways to improve the product, the subject of the investment call. This may be a moot point if there is no asset to release equity from - and that may be a good thing, forcing an entrepreneur to be more creative.
VOLUNTEERS
It is difficult to define what a volunteer is. The cast of a play, directors and so on might not come into this bracket, being profit or loss share partners. They would carry out most of the tasks in mounting a production.
Sometimes people offer to help with no other agenda, than simply to give their skill or time, usually in support of a concept or a member of a group. Some volunteers are extremely capable, bringing a wealth of experience to the table. Less experienced helpers can gain skills from unpaid elders. Unless this kind of arrangement is well organised and monitored it can lead to problems, but properly managed can yield benefits. In relation to a business proposal, it is a difficult subject to factor in, and probably best left out of the (variables) equation.
ASSOCIATES
A great way to give budding stars a look in is to invite participation at a grass roots level. This could also offset costs by reducing the staffing bill. Alongside the positives, one should bear in mind that investors are unlikely to plough money into a production where those involved may not be as reliable as those who are regularly employed, to be at a certain venue at a specified time. Though, this may not apply to the Smooth Faces. What we are talking about is quality control.
The only way to be sure of the skill sets needed for a 'commercial success' is to have on board a number of dependable professionals - and that is dependent on adequate capitalization, unless you have acting champion supporting the concept, and such a supporter would ideally be a household name.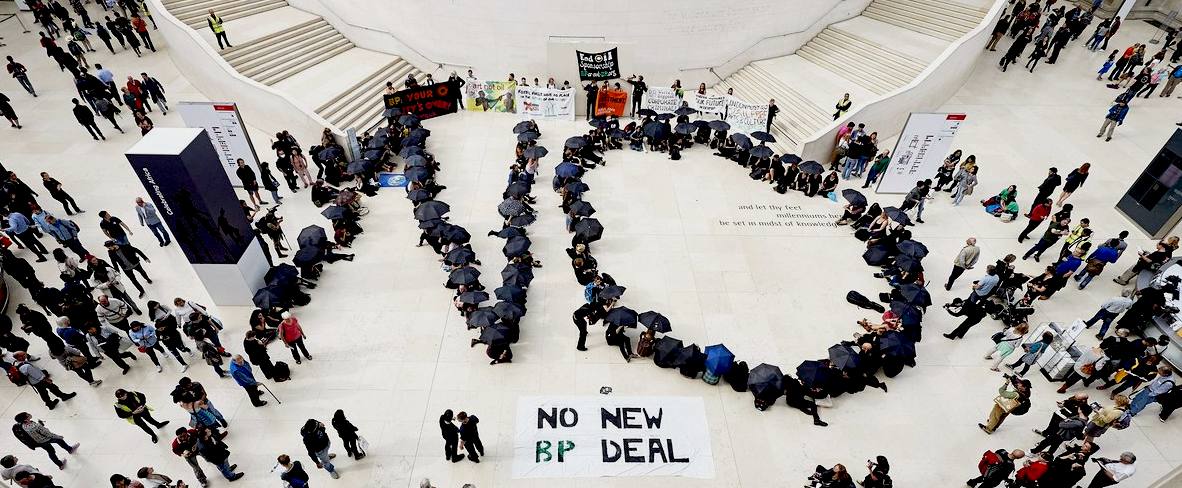 SPONSORSHIP - Almost 100 prominent figures from the arts, science and politics are calling on the new director of the British Museum to drop BP as a commercial sponsor. In a letter to the Guardian, the museum is urged to abandon the "completely out of touch" partnership.

The intervention is backed by actors Emma Thompson, Mark Ruffalo and Mark Rylance, writers Margaret Atwood, Naomi Klein and Caryl Churchill, as well as the shadow chancellor, John McDonnell, and physicist Sir Tom Kibble.

It comes shortly after BP announced it was ending its 26-year relationship with the Tate art gallery, blaming the "challenging business environment". Anti-oil sponsorship groups claimed that move as a campaign victory, and have since turned their attention to the company's remaining cultural ties.

The focus has switched to other beneficiaries of BP money: the National Portrait Gallery, the Royal Opera House and particularly the British Museum, where in December 2011 the four museum directors gathered to announce a five-year sponsorship deal worth £10m.
FRANCHISING - Adaptation is key to survival. We might then look at what is not working and come up with something that might.
Sharing is a concept that some resist at all costs. They fear losing control. But sharing key roles might mean that when one director or producer is worn out, another with a fresh perspective might take on the role. Investors will not like a situation where, when a key figure is off work (sick) the whole show - or worse; tour, is cancelled.
Franchising solves this problem. To be able to franchise a product or service, it needs to operate on a formula that anyone who follows the franchise code can replicate. An example of a franchise that works extremely well is McDonald's. Anyone can start a McDonald's franchise, provided that they have the capital and have identified an area that is not served. Customers know that they will get the same product quality no matter where in the world they eat. Granted, that this is a bizarre example where stagecraft is concerned.
Can it be the same with acting, where Shakespeare is performed all over the world. You could argue that the productions that do well in terms of income, are the basis for a Franchise that could work. Take the Die Hard series with Bruce Willis, the success of the first film was a formula for a franchise that worked well for his investors. Even better; Superman. Superman works with different actors so is an even better franchise. James Bond is the same.
Love art by all means, but look after yourself so that you can support your cause. Looking after yourself means choosing wisely where to invest your time; going for a formula that has a good level of security built in. You can of course rebuild a formula bereft of security; so that there is security.
All acting is a gamble, with a frighteningly high statistic of failure. It does not matter which medium you are working in, stage or celluloid - films bomb every week with huge losses for angels. What you can do is to recognize the risks and tick as many boxes as you can. If you can tick all the boxes with hand on heart, and better still with an independent financial appraisal, that will give you a much better chance of success. There is no need to throw in the towel - just develop the concept by adaptation until those boxes that are not ticked - have a thundering great big TICK.

TAMING OF THE SHREW - The above pictures show Elizabeth Taylor on the set of Franco Zefferelli's film of Shakespeare's The Taming of the Shrew. Did you know that the expressions: "More fool you" and "All of a sudden" are among phrases drawn from this play - "The more fool you, for laying on my duty," says Bianca.
The Taming of the Shrew (Italian: La Bisbetica domata) is a 1967 film based on the play of the same name by William Shakespeare about a courtship between two strong-willed people. The film was directed by Franco Zeffirelli and stars Elizabeth Taylor and Richard Burton as Shakespeare's Kate and Petruchio. The mix of stars would have been an irresistible draw for the public.

Baptista Minola (Michael Hordern) is attempting to marry off his two daughters; however, he will marry off his youngest, Bianca (Natasha Pyne) only if someone will marry his eldest, Katharina (Elizabeth Taylor). Katharina is an ill-tempered shrewish woman but a lusty young nobleman, Petruchio (Richard Burton), takes on the challenge of taming and marrying her. A subplot involves the wooing of Bianca by several suitors including handsome Lucentio (Michael York), foppish Hortensio (Victor Spinetti), and elderly Gremio (Alan Webb).

AWARDS & BOX OFFICE - The film received two Academy Award nominations, for Best Costume Design (Danilo Donati), and Best Art Direction (Lorenzo Mongiardino, John DeCuir, Elven Webb, Giuseppe Mariani, Dario Simoni and Luigi Gervasi).

The Taming of the Shrew grossed $8 million in North America, earning $3,540,000 in theatrical rentals during 1967, making it the 25th highest grossing picture of 1967. The film grossed $12 million worldwide.

The film received positive reviews from modern critics. Rotten Tomatoes reported that 85% of professional critics gave the film a positive review, with a rating average of 7.5 out of 10 and the site's consensus stating: "It may not be reverent enough for purists, but This Taming of the Shrew is too funny - and fun - for the rest of us to resist." The figures speak for themselves. Even the theatrical version did well.
TITUS - By contrast, this film was a box office bomb, earning only $22,313 on its opening weekend due to its limited release in only two theaters, ranking number 57 in the box office. Its widest release in the US was only in 35 theaters, causing the film to earn only $2,007,290 in North America. Overseas, the film grossed $252,390 in Chile, Mexico, and Spain, culminating in a worldwide total of $2,259,680.
Critical response

Titus received a mixed to positive response from critics. It holds a 57% average on Metacritic based on reviews from 29 critics indicating "Mixed or average reviews" and a 68% on Rotten Tomatoes based on 74 reviews with the consensus, "The movie stretches too long to be entertaining despite a strong cast."
What this should be telling anyone looking at making a success of a Shakespeare production in a modern world, is to choose the subject matter carefully. Even with Anthony Hopkins leading a star cast, it is possible to lose money.
ROMEO + JULIET - This film adaptation premiered on November 1, 1996 in the United States and Canada, in 1,276 theaters, and grossed $11.1 million its opening weekend, ranking #1 at the box office. It went on to gross $46.3 million in the United States and Canada, with a worldwide total of USD$147,554,998.

Review aggregator Rotten Tomatoes rated the film "Fresh", with 72% of 53 critics giving positive reviews. James Berardinelli gave the film 3 out of 4 stars and wrote, "Ultimately, no matter how many innovative and unconventional flourishes it applies, the success of any adaptation of a Shakespeare play is determined by two factors: the competence of the director and the ability of the main cast members. Luhrmann, Danes, and DiCaprio place this Romeo and Juliet in capable hands."

Leonardo DiCaprio won Favorite Actor and Claire Danes won Favorite Actress in a Romance at the 1997 Blockbuster Entertainment Awards. At the 1997 MTV Movie Awards, Danes won Best Female Performance. DiCaprio was nominated for Best Male Performance, and DiCaprio and Danes were both nominated for Best Kiss and Best On-Screen Duo.
This is another example of choosing a popular play to produce a commercial success. Choosing a tragedy as the vehicle for a production company, may be artistic, but might not thrill your accountants. Contrary to the MGM tagline: "Ars Gratia Artis" (Art for Art's Sake) or "l'art pour l'art," art has to make money to survive.
DEPRECIATION
All actors know that they have a shelf life, based on their looks and ability. For a lucky few, they will command roles well into their 60-70s. Dame Judi Dench and Sir Anthony Hopkins are two obvious British exceptions, heavyweights in the acting sense that would be in greater demand as they matured. But for most actors there is a peak and after that anonymity.
The classic argument for depreciation in acting terms is the beautiful young girl looking for a rich husband.
From the standpoint of a business person, it is a bad decision to marry a beautiful woman. What a beautiful woman is seeking to do is exchange "beauty" for "money." Person 'A' provides beauty, and Person 'B' pays for it, fair and square in the short term.

A wealthy husband would have earned his money using skills that increase with experience. His income might then be reasonably expected to increase from year to year. But a young beauty cannot get any younger year after year - though can blossom with maturity in some cases.

Generally though, from an economic standpoint, a wealthy husband is an appreciating asset, and a young beauty is a depreciating asset. It's not just normal depreciation, but exponential depreciation. If beauty is the only asset, the value will be much lower 10 years later.

By the terms used in Wall Street, if every trading has a position, dating is also a "trading position". If the trade value drops, a trader will sell the trading. It is not good business to keep a depreciating asset long-term. The same applies to the marriage that is proposed. A wiser decision with any asset that depreciates quickly is a lease arrangement. Fortunately, a marriage is not based on beauty alone, it is more of a merger, with attraction being just one element of the deal. People have skills that are far more valuable than looks. Relationships that work long term are those where partners have compatible skills and goals. (NOTE: These are not our words, but those of a real Wall Street trader in answer to a real life proposal.)
The good news here is that Shakespeare is mostly character. Indeed, it is incongruous to have young ladies portraying what should be grizzled roles. One might then argue that an aging cast is an appreciating asset - in Wall Street terms. Hence, depreciation for the Smooth Faced Gentlemen is not an urgent issue - and should never be an issue, because good casting would place the correct actor in the correct role. That is the secret of success for any good film: perfect casting. But, this relies on your ability to hire the perfect cast - and that is sure to bring us back to funding.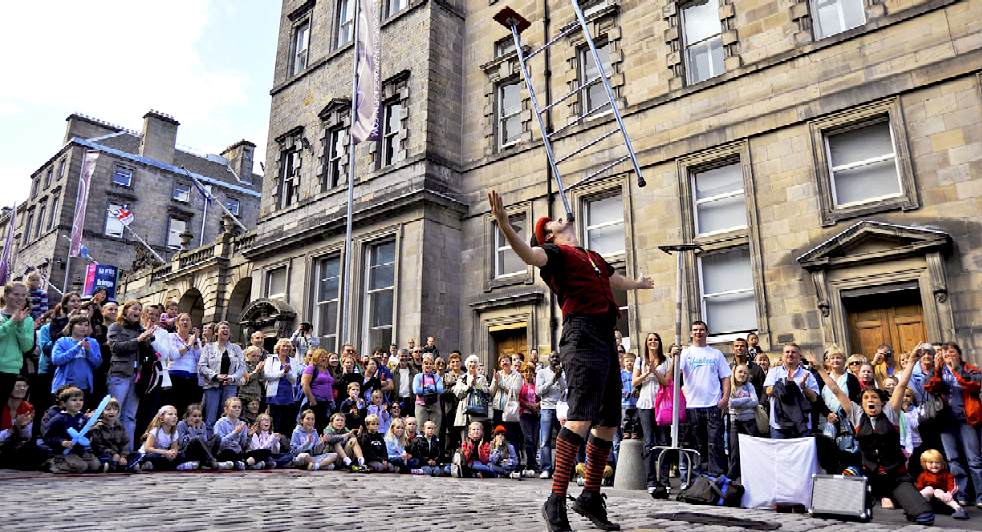 EDINBURGH FRINGE - The limitations and opportunities that the Fringe festival format presents lead to some common features. Shows are not judged or juried. Depending on the popularity, some fringe festivals may use a lottery system to determine which shows are selected.

Shows are typically technically sparse. They are commonly presented in shared venues, often with shared technicians and limited technical time, so sets and other technical theatre elements are kept simple. Venues may be adapted from other uses.

Casts tend to be smaller than mainstream theatre; since many of the performing groups are traveling, and venues (and thus potential income) tend to be fairly small, expenses must usually be kept to a minimum. One-person shows are therefore quite common at Fringe festivals.

Fringe festival productions often showcase new scripts, especially ones on more obscure, edgy or unusual material. The lack of artistic vetting combined with relatively easy entry make risk-taking more feasible.

While most mainstream theatre shows are two or three acts long, taking two to three hours with intermissions, fringe shows tend to be closer to one hour, single-act productions. The typically lowered ticket prices of a fringe theatre show permit audiences to attend multiple shows in a single evening.
TO BUSINESS
If you are serious, this means creating a Business Plan. A business plan is a tool that should (if properly thought through) reveal all the chinks in your financial armour. We (KGT) would be only too pleased to have a look at a business plan and give this troupe confidential feedback on a free basis. Our only agenda is to help prospective talent to blossom.
We identified a way to market SFG several years ago. This particular concept does not appear to have been either investigated or market tested. An opportunity missed perhaps, but there is always another angle if you look hard enough.
SPONSORS
Identifying the right sponsor is a skill in itself. Be sure to fully understand your prospects. A good guide is their corporate responsibility statement. If this fits with your ideals, that is a start. At the moment BP would be an example of an arts sponsor who is being targeted by many for their appalling environmental record, so a dubious prospect if media approval is needed - and of course the media employ professional critics whose columns are read by the theatre going public.
A common mistake is to assume that sponsors might gift money for no reward. That is very far from reality. In practice you need to show a potential sponsor how you can make them money. Sponsorship is a special relationship where a one organization or person is prepared to help another in return for an association that is beneficial. This means financially beneficial. There is no such thing as a free lunch. In any business plan, you simply must show backers how you will make them money, or that your cause is so socially advantageous and under-supported, that it is worthy of support - and that in itself is worth money to the right sponsor.
MARKET RESEARCH
A series of good reviews from art critics is not the same as a cold hard evaluation of the marketplace. Walk a mile in the shoes of a potential investor or partner. That should tell you where the ladders in the stockings are.
WEBSITE
This is simply superb, almost too good, for it builds your expectations. This and the dedication of their social media managers cannot be faulted. A huge TICK on this score. This is one thing we identified as a major asset as an integral part of a strong business proposal.
Stay tuned for News on the Smooth Faced Gentlemen. We are keeping our fingers crossed for them .........
CONCLUSION
The 'Smooth Faced Gentlemen' concept is deserving of development. Keep the cast all-female as the unique selling feature, but build the product with popular productions so that audiences will want to return time after time - all backed up with bullet proof management and IP acquisition. When that is achieved, financial backing is sure to follow in very short order. Good luck girls.
LG for Kismet Girls Trust
TITUS ANDRONICUS 2015 - GREENWHICH THEATRE 28 APRIL - 2 MAY & EDINBURGH FRINGE
Smooth Faced Gentlemen's all female Titus Andronicus is a deftly trimmed take on Shakespeare's most bloody tragedy. Amidst some cracking performances, a company of 8 clad in white blouses and black trousers and performing on a stark white set, deploy litres of red paint to depict the story's carnage.
The base motives of the play: lust, betrayal and parental love are all preserved in a text that has been finely chopped to just 80 minutes plus interval. The acting is a delight, with imaginative voice work chanted in from the wings that only adds to the Roman - Gothic chamber of horrors unfolding on stage. The moments of comedy are well defined and with paintbrushes (and occasionally rollers) replacing the conventional ironmongery of weapons, the irony and horror of the piece are cleverly preserved.
The cast are all strong, led by an imposing Ariane Barnes in the title role. Stand out performances amongst a talented troupe are Anita-Joy Uwajeh's Aaron, who frequently has the audience in the palm of her hand as she effortlessly blends evil with comedy. As Tamora, Olivia Bromley exudes an infernal cocktail of defiant maternal love, alongside a sickening contempt for Lavinia's vulnerable womanhood as well as a burning sexuality.
Four of the cast swap between various roles and whilst their transitions are slick, they add a layer of complexity that may well confuse a newcomer. Memorable from the role-changers is Ashlea Kaye who manages the challenge of portraying Demetrius' evil youth whilst also capturing Marcus' warm avuncular balm.
Only here for four days before a return to the Edinburgh Fringe this summer, Yaz Al-Shaater directs this triumphant truncation assuredly. This gender bending production takes a little getting used to and Titus novices would do well to peruse a pre-show synopsis, whilst those familiar with the fable should revel in this Elizabethan prequel to Come Dine With Me. With lashings of red sauce, the Smooth Faced Gents' Titus Andronicus makes for some of the most refreshingly accessible Shakespeare in town.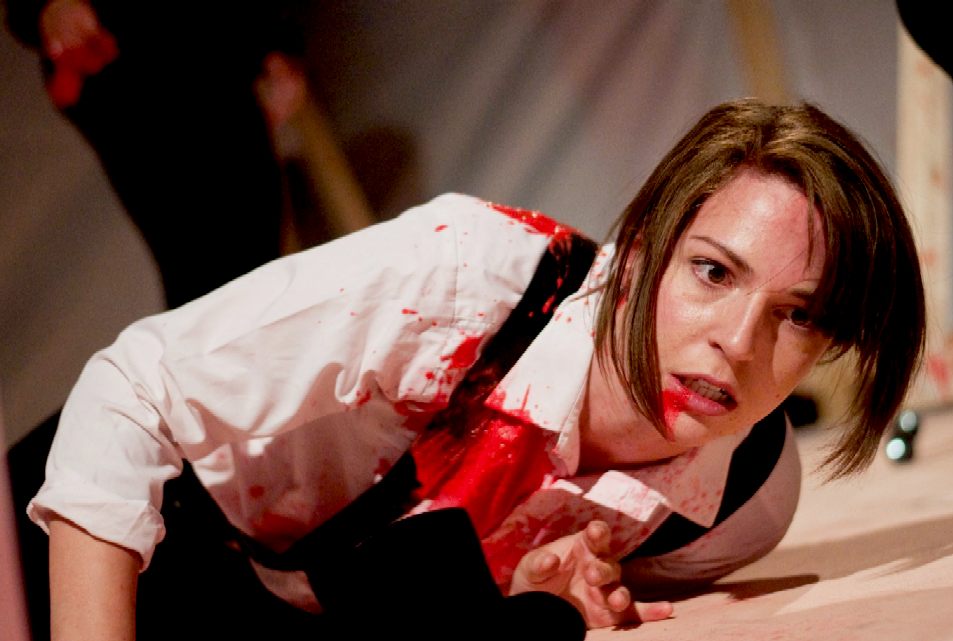 EMMA NIXON - In Titus Andronicus - Smooth Faced Gentlemen's dynamic ensemble use paint and artists' brushes in place of weapons and fake gore. The result is a vibrant, visceral re-imagining that is fast, fresh, furious, faithful and funny.
Titus Andronicus – Tue 28 April-Sat 2 May. Tickets: £16 (conc £13.50)
Box Office 020 8858 7755 www.greenwichtheatre.org.uk
For more information contact James Haddrell, Greenwich Theatre Artistic & Executive Director, on 020 8858 4447, or email j.haddrell@greenwichtheatre.org.uk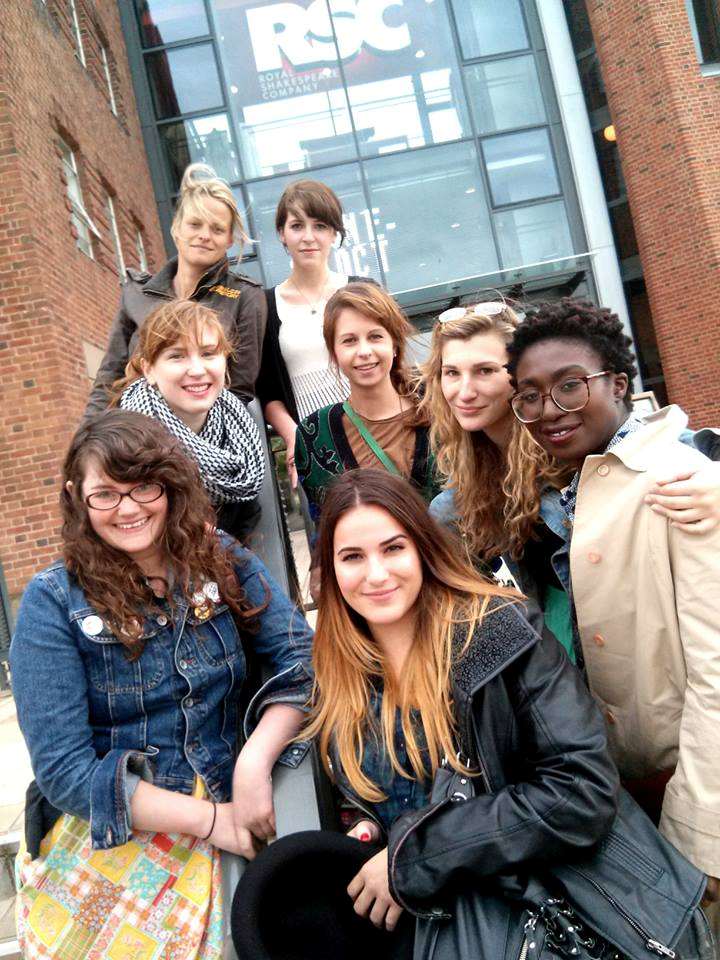 The cast of Titus Andronicus, London 2013 - Titus Andronicus is directed by Yaz Al-Shaater (Boris: World King, Not the Messiah), and stars Henri Merriam (F.A.N.Y – Anonymous is a Woman, Man is Man – Theatre Paradisum) as Titus and Emily Bairstow (Shoot I Didn't Mean That – Sphinx Theatre Company, The Merry Wives of Windsor – Principal Theatre Company) as Tamora.
TITUS ANDRONICUS 2013
A force to be reckoned with. They are dedicated to their art, energetic and work beautifully together to squeeze every last ounce of pigment onto the canvas stage. They're limbering up for another all female UK tour in 2013, and this time romance gives way to bloodshed: Ladies and gentlemen, the Smooth faces present to you: TITUS ANDRONICUS
2013 THE SMOOTH FACED PLAYERS: TITUS ANDRONICUS CAST - In alphabetical order
| | | | |
| --- | --- | --- | --- |
| | | | |
| Vivienne Acheampong | Fran Binefa | Madeline Gould | Ashlea Kaye |
| | | | |
| | | | |
| Henri Merriam | Emma Nixon | Leila Sykes | Stella Taylor |
TITUS ANDRONICUS CAST 2013 - In alphabetical order

Vivienne Acheampong - Aaron
New for 2013! Viv is London born actress from Ghanian heritage, trained at East 15. She's just been confirmed for the first heat of the Funny Woman awards.

Francesca Binefa - Saturninus / Nurse
Trained at GSA, and award-nominated for her performance as the Nurse in Romeo & Juliet. She's also our head of education, and a regular collaborator with our co-conspirators Three' s Company.

Madeline Gould - Tamora
This is Madeline's first time with Smooth Faced Gentlemen, though she recently worked with several of our actors on web-sitcom Missing Something. She trained at LAMDA and has just returned from a sell-out run on the Brighton Fringe.

Ashlea Kaye - Marcus / Demetrius / Quintus
Our Artistic Director and co-founder of the company: DSL trained and another regular face at Three's Company. Having played Juliet last time around, Ashlea is very excited to finally get to play a boy. Three, in fact.

Henri Merriam - Titus
Fresh from playing Capulet and Mercutio in Romeo & Juliet, LAMDA-trained Henri is back for more, taking on the title role in Titus Andronicus.

Emma Nixon - Bassianus / Martius / Alarbus
Emma just graduated from LIPA in Liverpool, where she received the Acting Prize for Performance. We didn't ask what other acting prizes there are.

Leila Sykes - Lavinia
Our head of development, and another Three's Company regular. Leila played Romeo in our Romeo & Juliet last year, almost straight after graduating from Drama Centre. She's thrilled to be playing a girl this time around.

Stella Taylor – Lucius / Chiron
Another new actor for the company, Stella trained at CSSD, plays the Ukelele, and will be starring in a major Nollywood film straight after this. (That's right, we said Nollywood).

TITUS ANDRONICUS CREW 2013 - In alphabetical order

Yaz Al-Shaater – Director

Anna Beecher – Dramaturg

Tom Crawshaw - Dramaturg

Celia Dugua - Lighting

Kirsty Fox - Associate Producer

Amy Gunn – Stage Management

Jacob Hughes - Designer

Rachel Illingsworth – Assistant Director

James Percival - Sound

These are the smooth faces of a troupe of ladies who prefer to act out the parts of gentlemen. This troupe are truly superb and deserve as much support as you can give them. The productions that the SFG players intend staging in the future, are classic renditions of Shakespeare's works in traditional costume, which sets them apart from other all female troupes in the US and elsewhere (good as they are) - as one might expect from the qualifications and experience of the members. They are Kismet Girls through and through.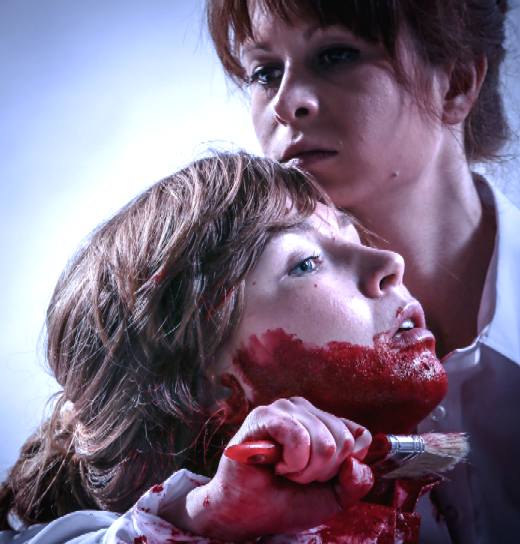 Ashlea Kaye and Leila Sykes rehearsing Titus Andronicus
The Smooth Faced Gentlemen are serious actors carrying off the parts of their male counterparts so well, that you may well believe they are men. That is the opinion of many people who have seen their shows. Moreover, the acting is of such a high caliber that any advocate of Shakespeare will appreciate the performance for the performance and not because the players are all female - although that inevitably adds to the mystique - and that extra layer of spice is bound to draw audiences wherever they perform.
2012 THE SMOOTH FACED PLAYERS: ROMEO & JULIET CAST - In alphabetical order
| | | | |
| --- | --- | --- | --- |
| | | | |
| Mariam Bell | Camina Bernhardt | Fran Binefa | Carly Jukes |
| | | | |
| | | | |
| Ashlea Kaye | Kayleigh McDonald | Henri Merriam | Leila Sykes |
2013 SEASON
Inevitably the cast from one year may differ to the next as the ladies learn from the experience and take that with them to other roles. The cast of 2012 were superb. The directors have learned a great deal from their inaugural year and used that experience when casting Titus Andronicus. We can't wait to see the production and get feedback. If last years Romeo and Juliet is anything to go by, we're in for a treat. We hope that with their success they become a permanent feature in British theatre. This may be premature, but we are hoping for a 2014 season, with support full commercial support and other industry backing. What ho!

SMOOTH FACED GENTLEMEN - THE LINE UP FOR 2012 WAS:
Production Team
Company Manager: Ashlea Kaye
Directors: Yaz Al-Shaater, Michael Grady-Hall Tom Crawshaw
Debut Cast (Buxton)
Lady Capulet / Benvolio: Carmina Bernhardt
Nurse / Paris / Montague: Fran Binefa
Friar Lawrence / Tybalt: Carly Jukes
Juliet / Apothecary / Abraham: Ashlea Kaye
Escalus / Friar John / Peter: Kayleigh McDonald
Capulet / Mercutio: Henri Merriam
Romeo / Sampson: Leila Sykes
Launch Night Cast (London)
Lady Capulet / Benvolio: Carmina Bernhardt
Nurse / Paris / Montague: Fran Binefa
Friar Lawrence / Tybalt: Carly Jukes
Juliet / Apothecary / Abraham: Ashlea Kaye
Escalus / Friar John / Peter: Mariam Bell (Barghchi)
Capulet / Mercutio: Henri Merriam
Romeo / Sampson: Leila Sykes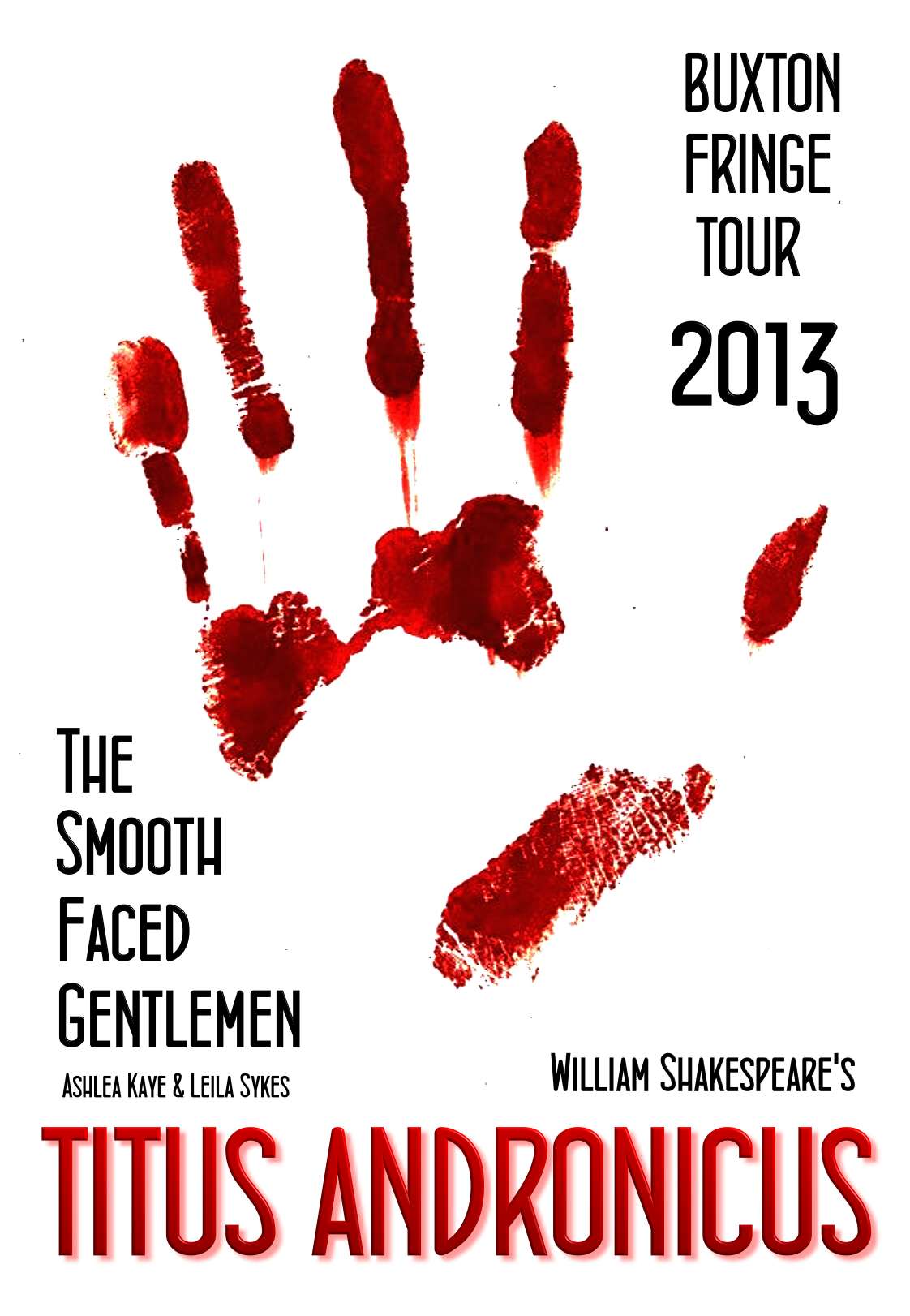 Smooth Faced Gentlemen are no longer the UK's only all-female Shakespeare company. It seems that their success may have spurred others to produce 'all-female' shows. The latest actor to join in the fun is Anne Hathaway, reportedly to play in The Taming of the Shrew this year.
The SFG female ensemble perform fast-paced, dynamic productions of Shakespeare's much-loved classics. Thier approach, which marries tradition with innovation, seeks to dismantle the audience's preconceptions of the Bard's work. Through the prism of an all-female cast Smooth Faced Gentlemen examine the mastery with which Shakespeare pictures humanity - a humanity which an actor can explore and share whether male or female.

This year Smooth Faced Gentlemen set sail on thier maiden voyage - a production of Romeo & Juliet - helmed by the award-winning Three's Company. Shakespeare's greatest love story was faithfully and provocatively retold by the exceptional all-female cast at the Buxton Festival Fringe, July 2012. This bold production of the classic tale of love and rage met with critical and popular acclaim and went on to win the festival's Best Production award.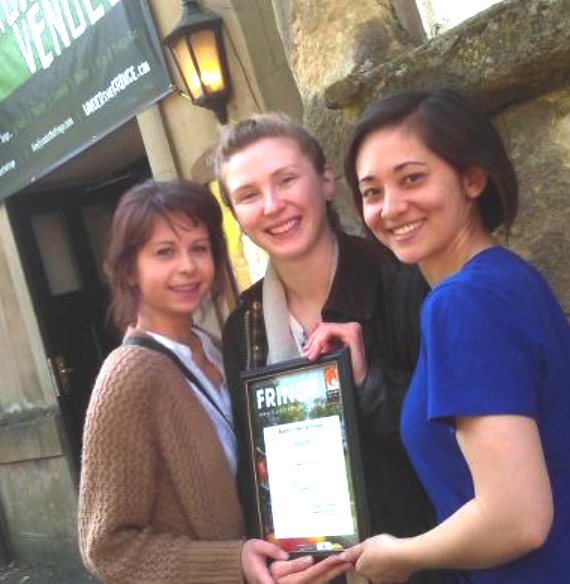 Ashlea Kaye, Leila Sykes and Camina Bernhardt at the Buxton Fringe 2012

THANKS FOR ALL YOUR HELP
The Smooth Faced Gentlemen started a crowd funding campaign on indigogo and raised $975, for which they would like to thank every single contributor, by doing their utmost to keeping their shows alive following their success in Buxton. SFG used your money to stage a performance of Romeo & Juliet for potential sponsors on the 29th of October 2012, and the New Diorama Theatre. Selected industry partners were invited to attend the fundraising night. We'll keep you posted when we hear more.
NEXT 2013 >>>

The Smooth Faced Gentlemen are planning to mount their first season in London, which will include a full run for the award-winning Romeo & Juliet. Details will be announced on their website as the venues become known.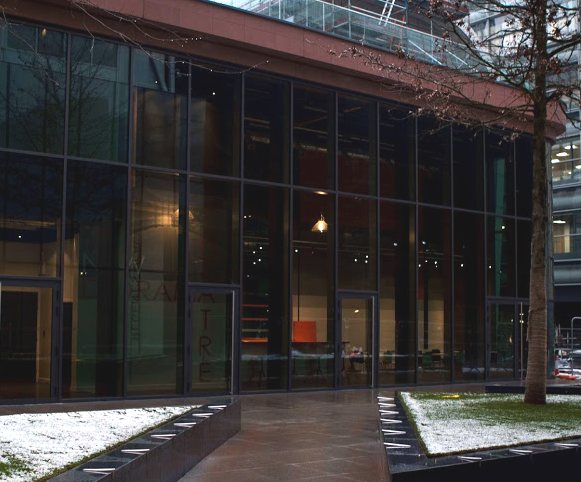 THE DIORAMA THEATRE
The New Diorama theatre is a perfect place for celebratory events, product and promotional launches. With a fully equipped auditorium complete with 80 retractable seats, the space is easily transformed into an open area perfect for networking, with a stylish and comfortable bar and cafe area.

Centrally located in NW1 the NDT is within a very short walk of 5 major tube lines as well as three main line stations including St Pancras Station's Euro Star. It is still just outside the congestion charge zone and there is mostly free evening parking available.
15 - 16 Triton Street,
Regents Place,
London, NW1 3BF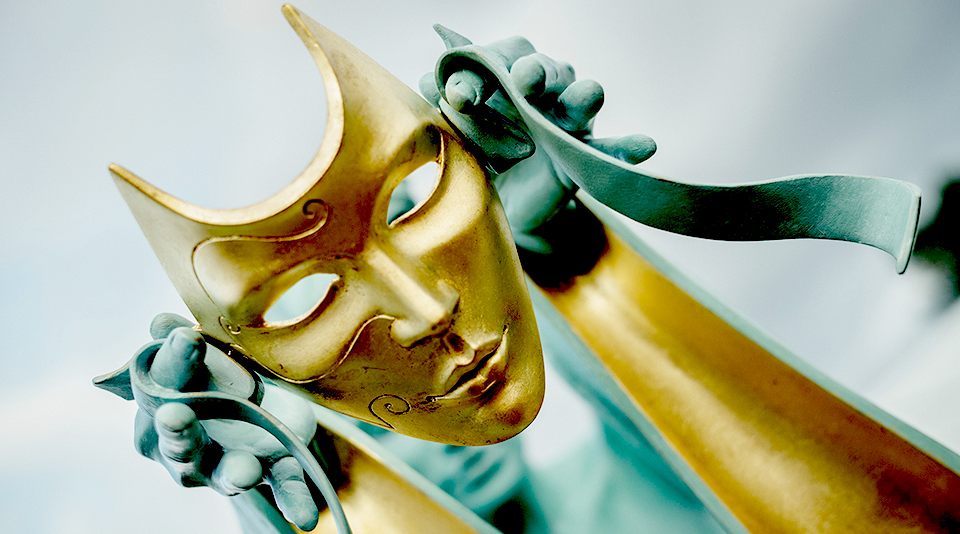 COPYRIGHT - Unlike other intellectual property (IP) rights, copyright is a free, automatic right. This means that there's no official register of copyright works, but it also means that you have to work harder to sew up the IP.

If you create or hold rights to a work, it's important to keep records and data trails which you can use as proof of your rights if the worst should happen. For example, embedding data in your digital images files (known as metadata) or superimposing a watermark over your images to show the copyright in the work.

Protecting your work can help you in many ways. It can help you take legal action against anyone who uses your images without permission and can bring in extra income through licensing or selling your rights. Even for experienced industry experts, managing copyright can be tricky at times. This where trade marks might help to bolster copyright - and a limited company to hold rights and fight court cases - should there be something worth fighting over. What then is the value of your work?
THREE'S COMPANY, Yaz Al-Shaater and Tom Crawshaw
Three's Company is an award-winning three-man theatre company founded in 2000, with work to date including appearances in London, Manchester and the Buxton and Edinburgh Fringes.
BEARDED FACED DIRECTORS
Three's Company are working with Smooth Faced Gentlemen to raise awareness of and keep alive Shakespeare's plays on the stage.
Michael Grady-Hall, Yaz Al-Shaater have completed directing and acting at the RADA Central School of Speech and Drama and Tom Crawshaw, similarly, at Oxford University. They are now firmly established in London. See their website below for details.
A time lapse rehearsal of Romeo & Juliet
LINKS & REFERENCE:
The Resident culture events arts London UKs-female-shakespeare-company-tour
My theatre mates titus andronicus review
UK school trips events Greater London Titus Andronicus at Greenwich Theatre price reductions
www.guardian.co.uk/stage/blog/12/sep/04/shakespeare
Wikipedia The_Taming_of_the_Shrew_1967_film
Vile arts blogspot August 2015 smooth faced dramaturgy edfringe
https://elizabethmarywilliams.wordpress.com/tag/physical-theatre/
Casting call pro company smooth-faced-gentlemen
http://www.castingcallpro.com/uk/company/110579/smooth-faced-gentlemen
https://elizabethmarywilliams.wordpress.com/tag/physical-theatre/
https://www.gov.uk/government/organisations/intellectual-property-office
https://en.wikipedia.org/wiki/Greenwich_Theatre
http://vilearts.blogspot.co.uk/2015/08/smooth-faced-dramaturgy-edfringe-2015.html
http://www.greenwichtheatre.org.uk/
https://www.pleasance.co.uk/
https://www.edfringe.com/
https://en.wikipedia.org/wiki/Fringe_theatre
http://www.theguardian.com/culture/2016/apr/03/mark-ruffalo-british-museum-drop-bp-sponsorship-letter-oil
https://en.wikipedia.org/wiki/Titus_%28film%29
https://en.wikipedia.org/wiki/Romeo_%2B_Juliet
https://en.wikipedia.org/wiki/The_Taming_of_the_Shrew_%281967_film%29
https://www.edfringe.com
http://www.theresident.co.uk/london-culture-events/arts-music-london/uks-female-shakespeare-company-tour/attachment/titus-image-3-text/
http://titus2015.com/
http://mytheatremates.com/titus-andronicus-review/
http://www.ukschooltrips.co.uk/events/greater-london/titus-andronicus-at-greenwich-theatre-price-reductions-available-london
http://www.greenwichtheatre.org.uk/
Stratford Upon Avon - Shakespeare's birthplace
Ashlea * Camina * Carly * Fran * Henri * Kayleigh * Leila * Mariam