Romeo and Juliet is considered by many to be the ultimate tragedy written early in the career of William Shakespeare. It's about two young star-crossed lovers whose deaths ultimately unite their feuding families - too late. It was among Shakespeare's most popular plays during his lifetime and, along with Hamlet, is one of his most frequently performed plays and for good reason.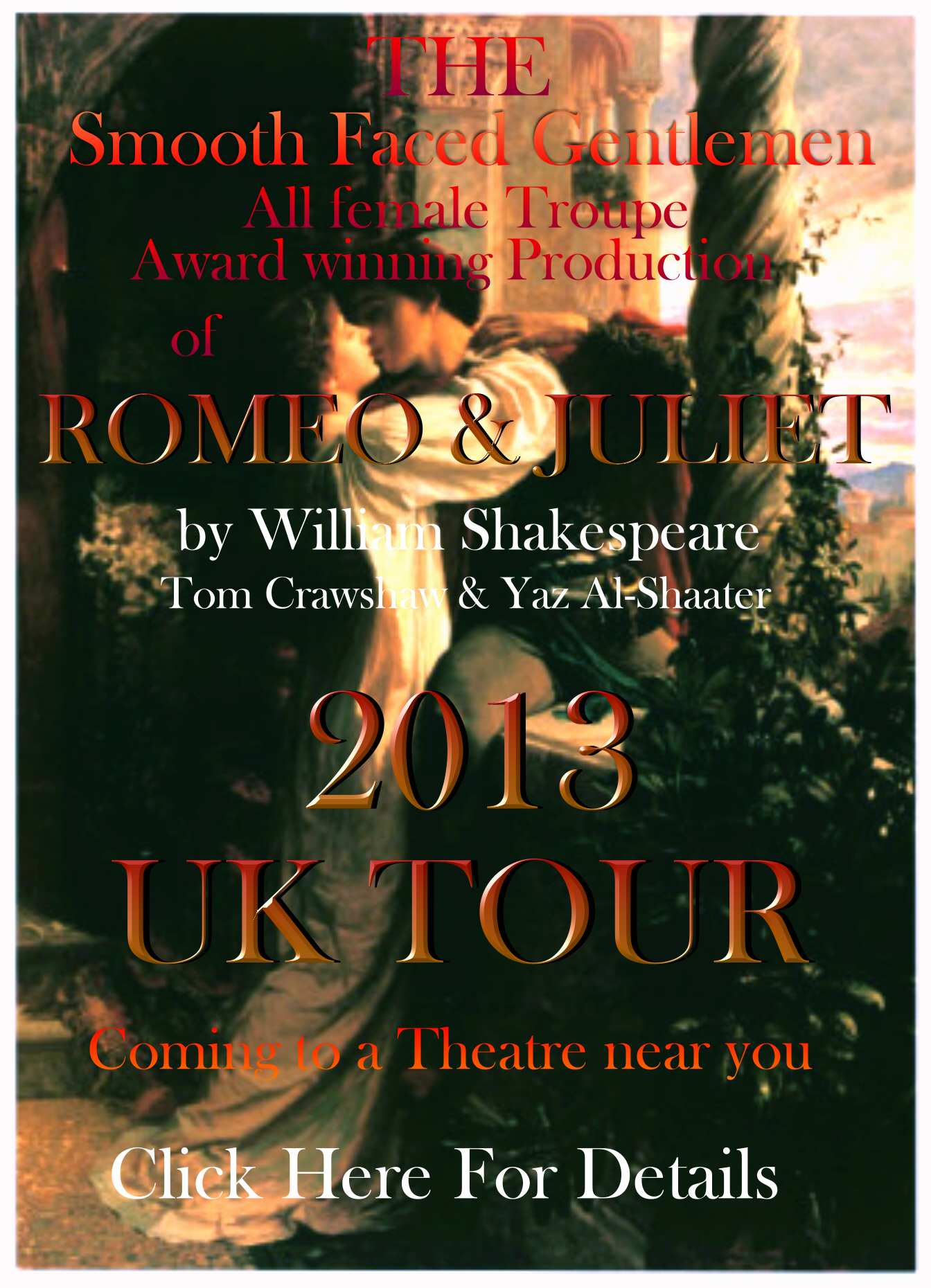 Shakespeare's use of dramatic structure, especially effects such as switching between comedy and tragedy to heighten tension, his expansion of minor characters, and his use of sub-plots to embellish the story, has been praised as an early sign of his dramatic skill. The play ascribes different poetic forms to different characters, sometimes changing the form as the character develops. Romeo, for example, grows more adept at the sonnet over the course of the play.
Romeo and Juliet belongs to a tradition of tragic romances stretching back to antiquity. Its plot is based on an Italian tale, translated into verse as The Tragical History of Romeus and Juliet by Arthur Brooke in 1562 and retold in prose in Palace of Pleasure by William Painter in 1582. Shakespeare borrowed heavily from both but, to expand the plot, developed supporting characters, particularly Mercutio and Paris. Believed to have been written between 1591 and 1595, the play was first published in a quarto version in 1597. This text was of poor quality, and later editions corrected it, bringing it more in line with Shakespeare's original.

Romeo and Juliet has been adapted numerous times for stage, but none so daring as with the Smooth Faced Gentlemen's production using an all female cast. provocatively retold by the exceptional all-female cast at the Buxton Festival Fringe, July 2012. This bold production of the classic tale of love and rage met with critical and popular acclaim and went on to win the festival's Best Production award.
SYNOPSIS
The play, set in Verona, begins with a street brawl between Montague and Capulet supporters who are sworn enemies. The Prince of Verona intervenes and declares that further breach of the peace will be punishable by death. Later, Count Paris talks to Capulet about marrying his daughter, but Capulet asks Paris to wait another two years (then he later orders Juliet to marry Paris) and invites him to attend a planned Capulet ball. Lady Capulet and Juliet's nurse try to persuade Juliet to accept Paris's courtship.

Meanwhile, Benvolio talks with his cousin Romeo, Montague's son, about Romeo's recent depression. Benvolio discovers that it stems from unrequited infatuation for a girl named Rosaline, one of Capulet's nieces. Persuaded by Benvolio and Mercutio, Romeo attends the ball at the Capulet house in hopes of meeting Rosaline. However, Romeo instead meets and falls in love with Juliet. After the ball, in what is now called the "balcony scene", Romeo sneaks into the Capulet orchard and overhears Juliet at her window vowing her love to him in spite of her family's hatred of the Montagues. Romeo makes himself known to her and they agree to be married. With the help of Friar Laurence, who hopes to reconcile the two families through their children's union, they are secretly married the next day.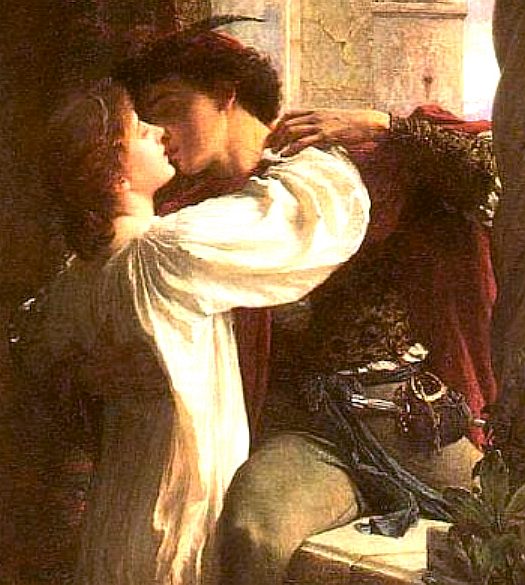 Juliet's cousin Tybalt, incensed that Romeo had sneaked into the Capulet ball, challenges him to a duel. Romeo, now considering Tybalt his kinsman, refuses to fight. Mercutio is offended by Tybalt's insolence, as well as Romeo's "vile submission," and accepts the duel on Romeo's behalf. Mercutio is fatally wounded when Romeo attempts to break up the fight. Grief-stricken and wracked with guilt, Romeo confronts and slays Tybalt.

Montague argues that Romeo has justly executed Tybalt for the murder of Mercutio. The Prince, now having lost a kinsman in the warring families' feud, exiles Romeo from Verona, with threat of execution upon return. Romeo secretly spends the night in Juliet's chamber, where they consummate their marriage. Capulet, misinterpreting Juliet's grief, agrees to marry her to Count Paris and threatens to disown her when she refuses to become Paris's "joyful bride." When she then pleads for the marriage to be delayed, her mother rejects her.

Juliet visits Friar Laurence for help, and he offers her a drug that will put her into a deathlike coma for "two and forty hours." The Friar promises to send a messenger to inform Romeo of the plan, so that he can rejoin her when she awakens. On the night before the wedding, she takes the drug and, when discovered apparently dead, she is laid in the family crypt.

The messenger, however, does not reach Romeo and, instead, Romeo learns of Juliet's apparent death from his servant Balthasar. Heartbroken, Romeo buys poison from an apothecary and goes to the Capulet crypt. He encounters Paris who has come to mourn Juliet privately. Believing Romeo to be a vandal, Paris confronts him and, in the ensuing battle, Romeo kills Paris. Still believing Juliet to be dead, he drinks the poison. Juliet then awakens and, finding Romeo dead, stabs herself with his dagger. The feuding families and the Prince meet at the tomb to find all three dead. Friar Laurence recounts the story of the two "star-cross'd lovers". The families are reconciled by their children's deaths and agree to end their violent feud. The play ends with the Prince's elegy for the lovers: "For never was a story of more woe / Than this of Juliet and her Romeo."

During the English Restoration, it was revived and heavily revised by William Davenant. David Garrick's 18th-century version also modified several scenes, removing material then considered indecent, and Georg Benda's operatic adaptation omitted much of the action and added a happy ending. Performances in the 19th century, including Charlotte Cushman's, restored the original text, and focused on greater realism. John Gielgud's 1935 version kept very close to Shakespeare's text, and used Elizabethan costumes and staging to enhance the drama. In the 20th century the play has been adapted in versions as diverse as George Cukor's comparatively faithful 1936 production, Franco Zeffirelli's 1968 version, and Baz Luhrmann's 1996 MTV-inspired Romeo + Juliet.
| | |
| --- | --- |
| Romeo & Juliet cartoon - Youtube | Romeo & Juliet movie - Youtube |
Scene II. Capulet's orchard.
Enter Romeo.

Rom. He jests at scars that never felt a wound.

Enter Juliet above at a window.

But soft! What light through yonder window breaks?
It is the East, and Juliet is the sun!
Arise, fair sun, and kill the envious moon,
Who is already sick and pale with grief
That thou her maid art far more fair than she.
Be not her maid, since she is envious.
Her vestal livery is but sick and green,
And none but fools do wear it. Cast it off.
It is my lady; O, it is my love!
O that she knew she were!
She speaks, yet she says nothing. What of that?
Her eye discourses; I will answer it.
I am too bold; 'tis not to me she speaks.
Two of the fairest stars in all the heaven,
Having some business, do entreat her eyes
To twinkle in their spheres till they return.
What if her eyes were there, they in her head?
The brightness of her cheek would shame those stars
As daylight doth a lamp; her eyes in heaven
Would through the airy region stream so bright
That birds would sing and think it were not night.
See how she leans her cheek upon her hand!
O that I were a glove upon that hand,
That I might touch that cheek!


Jul. Ay me!

Rom. She speaks.
O, speak again, bright angel! for thou art
As glorious to this night, being o'er my head,
As is a winged messenger of heaven
Unto the white-upturned wond'ring eyes
Of mortals that fall back to gaze on him
When he bestrides the lazy-pacing clouds
And sails upon the bosom of the air.


Jul. O Romeo, Romeo! wherefore art thou Romeo?
Deny thy father and refuse thy name!
Or, if thou wilt not, be but sworn my love,
And I'll no longer be a Capulet.


Rom. [aside] Shall I hear more, or shall I speak at this?

Jul. 'Tis but thy name that is my enemy.
Thou art thyself, though not a Montague.
What's Montague? it is nor hand, nor foot,
Nor arm, nor face, nor any other part
Belonging to a man. O, be some other name!
What's in a name? That which we call a rose
By any other name would smell as sweet.
So Romeo would, were he not Romeo call'd,
Retain that dear perfection which he owes
Without that title. Romeo, doff thy name;
And for that name, which is no part of thee,
Take all myself.


Rom. I take thee at thy word.
Call me but love, and I'll be new baptiz'd;
Henceforth I never will be Romeo.


Jul. What man art thou that, thus bescreen'd in night,
So stumblest on my counsel?


Rom. By a name
I know not how to tell thee who I am.
My name, dear saint, is hateful to myself,
Because it is an enemy to thee.
Had I it written, I would tear the word.


Jul. My ears have yet not drunk a hundred words
Of that tongue's utterance, yet I know the sound.
Art thou not Romeo, and a Montague?


Rom. Neither, fair saint, if either thee dislike.

Jul. How cam'st thou hither, tell me, and wherefore?
The orchard walls are high and hard to climb,
And the place death, considering who thou art,
If any of my kinsmen find thee here.


Rom. With love's light wings did I o'erperch these walls;
For stony limits cannot hold love out,
And what love can do, that dares love attempt.
Therefore thy kinsmen are no let to me.


Jul. If they do see thee, they will murther thee.

Rom. Alack, there lies more peril in thine eye
Than twenty of their swords! Look thou but sweet,
And I am proof against their enmity.


Jul. I would not for the world they saw thee here.

Rom. I have night's cloak to hide me from their sight;
And but thou love me, let them find me here.
My life were better ended by their hate
Than death prorogued, wanting of thy love.


Jul. By whose direction found'st thou out this place?

Rom. By love, that first did prompt me to enquire.
He lent me counsel, and I lent him eyes.
I am no pilot; yet, wert thou as far
As that vast shore wash'd with the farthest sea,
I would adventure for such merchandise.


Jul. Thou knowest the mask of night is on my face;
Else would a maiden blush bepaint my cheek
For that which thou hast heard me speak to-night.
Fain would I dwell on form- fain, fain deny
What I have spoke; but farewell compliment!
Dost thou love me, I know thou wilt say 'Ay';
And I will take thy word. Yet, if thou swear'st,
Thou mayst prove false. At lovers' perjuries,
They say Jove laughs. O gentle Romeo,
If thou dost love, pronounce it faithfully.
Or if thou thinkest I am too quickly won,
I'll frown, and be perverse, and say thee nay,
So thou wilt woo; but else, not for the world.
In truth, fair Montague, I am too fond,
And therefore thou mayst think my haviour light;
But trust me, gentleman, I'll prove more true
Than those that have more cunning to be strange.
I should have been more strange, I must confess,
But that thou overheard'st, ere I was ware,
My true-love passion. Therefore pardon me,
And not impute this yielding to light love,
Which the dark night hath so discovered.


Rom. Lady, by yonder blessed moon I swear,
That tips with silver all these fruit-tree tops-


Jul. O, swear not by the moon, th' inconstant moon,
That monthly changes in her circled orb,
Lest that thy love prove likewise variable.


Rom. What shall I swear by?

Jul. Do not swear at all;
Or if thou wilt, swear by thy gracious self,
Which is the god of my idolatry,
And I'll believe thee.


Rom. If my heart's dear love-

Jul. Well, do not swear. Although I joy in thee,
I have no joy of this contract to-night.
It is too rash, too unadvis'd, too sudden;
Too like the lightning, which doth cease to be
Ere one can say 'It lightens.' Sweet, good night!
This bud of love, by summer's ripening breath,
May prove a beauteous flow'r when next we meet.
Good night, good night! As sweet repose and rest
Come to thy heart as that within my breast!


Rom. O, wilt thou leave me so unsatisfied?

Jul. What satisfaction canst thou have to-night?

Rom. Th' exchange of thy love's faithful vow for mine.

Jul. I gave thee mine before thou didst request it;
And yet I would it were to give again.


Rom. Would'st thou withdraw it? For what purpose, love?

Jul. But to be frank and give it thee again.
And yet I wish but for the thing I have.
My bounty is as boundless as the sea,
My love as deep; the more I give to thee,
The more I have, for both are infinite.
I hear some noise within. Dear love, adieu!
[Nurse] calls within.
Anon, good nurse! Sweet Montague, be true.
Stay but a little, I will come again. [Exit.]


Rom. O blessed, blessed night! I am afeard,
Being in night, all this is but a dream,
Too flattering-sweet to be substantial.


Enter Juliet above.

Jul. Three words, dear Romeo, and good night indeed.
If that thy bent of love be honourable,
Thy purpose marriage, send me word to-morrow,
By one that I'll procure to come to thee,
Where and what time thou wilt perform the rite;
And all my fortunes at thy foot I'll lay
And follow thee my lord throughout the world.


Nurse. (within) Madam!

Jul. I come, anon.- But if thou meanest not well,
I do beseech thee-


Nurse. (within) Madam!

Jul. By-and-by I come.-
To cease thy suit and leave me to my grief.
To-morrow will I send.


Rom. So thrive my soul-

Jul. A thousand times good night! Exit.

Rom. A thousand times the worse, to want thy light!
Love goes toward love as schoolboys from their books;
But love from love, towards school with heavy looks.


Enter Juliet again, [above].

Jul. Hist! Romeo, hist! O for a falconer's voice
To lure this tassel-gentle back again!
Bondage is hoarse and may not speak aloud;
Else would I tear the cave where Echo lies,
And make her airy tongue more hoarse than mine
With repetition of my Romeo's name.
Romeo!


Rom. It is my soul that calls upon my name.



---
Stratford Upon Avon - Shakespeare's birthplace
---
Antony and Cleopatra * Hamlet * Macbeth * Othello * Romeo and Juliet
A Midsummer Night's Dream * As You Like It * Much Ado About Nothing
The Merchant of Venice * The Taming of the Shrew
Ashlea * Camina * Carly * Fran * Henri * Kayleigh * Leila * Mariam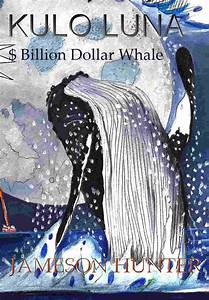 A heartwarming adventure:
Pirate whalers V conservationists
with a $billion riding on the outcome.